Jekyll & Hyde
Tue 13 to Sat 17 November 2007
Palace Theatre, Redditch
Director – Kevin Hirons
Musical Director – Norma Kift
Society Accompanist – Pauline Sherlock
Winner of NODA West Midlands Region 10 Best Musical Award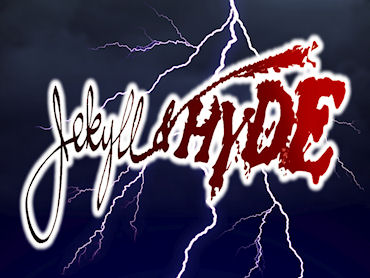 Cast List
| Character | Performed by |
| --- | --- |
| Gabriel John Utterson | Tony Jay |
| Sir Danvers Carew | Ron Munro |
| Doctor Henry Jekyll | Kevin Hirons |
| Simon Stride | Nigel Buckley |
| Sir Archibald Proops | Alan Hirons |
| Lord Savage | Steve Sidaway |
| General Lord Glossop | Barrie Cole |
| Lady Beaconsfield | Carole Massey |
| The Bishop of Basingstoke | Julian Wilson |
| Emma Carew | Janna Mutton |
| Nellie, a prostitute | Liz Bird |
| Lucy Harris | Alison Adams |
| Spider, a pimp | Mark Williams |
| Poole, manservant | Alan Bugg |
| Bisset, the apothecary | Bob Taylor |
| Paperboy | Ryan Allen |
Reviews
Excellent show – 4 stars
An excellent show is a little let down by its too-small drop-curtain, which lets us see too much of what's going on behind it, and by a lack of awareness of its own sightlines, which means that patrons on the end of the rows occasionally miss part of the actiion – as in the duet between Janna Mutton (Emma) and Alison Adams (Lucy).
But the costumes are excellent and the lighting is superb – which is no more that everyone on stage deserves.
Kevin Hirons has not only directed and designed this fine production, he plays the central characters – an undertaking that at one point demands a duet with himself, The Confrontation, in which again the lighting is first class. His good-guy-bad-guy responsibilities find him involved in more than a dozen numbers, and his murderous instincts put the Bishop of Basingstoke on the wrong end of a deadly and cleverly accomplished game of Hyde-and-stick.
He is in mellifluous partnership with Alison Adams – but this is a production that is alive with ear-catching voices, including those of the chorus, which at times achieves an appropriate shrillness and excels with Bring On the Men.
Here is a show that is a credit to everyone involved.
Evening Mail, November 2007
Show a hard act to follow
Oh what a joy. This rousing gothic musical based on Robert Louis Stevenson's classic tale of good and evil was a riot of murder and chaos for modern audiences.
Conceived for the stage by Steve Cuden and Frank Wildhorn with lyrics by Leslie Bricusse, it received its world premier in 1990 and it was easy to see why it was chosen by Redditch Operatic Society this time round.
A magnificent set, fabulous costumes and dramatic music (sometimes a little too loud to hear the characters speaking from my circle seat) enhanced superb performances from the cast.
Kevin Hirons directed and played Jekyll and Hyde – a star performance both singing and acting worthy of the West End. Alison Adams, playing prostitute Lucy Harris, was also outstanding in both respects and the sweet voice of Janna Mutton, playing Jekyll's fiancee Emma Carew, had the audience spellbound.
The show was well-paced, gripping, exciting and enthralling with superb lead and supporting performances, and exceptional direction – a hard act to follow next year!
Redditch Standard, Friday 23 November 2007
Westminster Diary
I have seen volunteer and amateur Redditch at its best this weekend. On Friday I went to see Redditch Operatic Society's performance of Jekyll and Hyde at the superb Palace Theatre.
I really enjoyed the evening and was really impressed with the quality of the work. There are chances for everyone to take part in productions like this through the society or clubs at the Palace…
Jacqui Smith, MP for Redditch, Redditch Standard, Friday 23 November 2007
Amateur Stage
Full marks to Kevin Hirons for last week's production of Jekyll & Hyde by Redditch Operatic Society. With a fine voice, he not only made a magnificent job of the double lead role, he both produced and designed the show as well. It was one of those occasions when people who habitually scoff at amateur theatre without knowing the first thing about it could have had their eyes opened.
John Slim, Birmingham Mail, Friday 23 November 2007
Complete triumph
A complete triumph for Kevin Hirons in his joint role of Director and leading man Dr Jekyll. This performance would have graced London's West End. The minimalist set built and designed in house allowed full use of the stage and even with a cast of over fifty principals and chorus was never overcrowded.
Superb central performances from Kevin, Janna Mutton 'Emma', Alison Adams 'Lucy', and Tony Jay 'John', supported by very strong smaller roles and a superb well directed chorus.
Excellent solo and chorus singing was underpinned by a controlled, sympathetic orchestra. Superb imaginative lighting, sound and costumes. Absolutely terrific!
NODA News, West Midlands, Summer 2008
Our View
We knew all along, when we first chose this fabulous show for our main production of 2007, that it would not be a particularly 'easy sell' and that we would have to work hard to sell anywhere near the number of tickets we did for last year's South Pacific.
This was proven to be true. Despite our hugest efforts to publicise the show and push the tickets, time and again we heard words to the effect of "We don't know it" or "I don't really fancy that one". We also wondered if the recent television programme Jekyll had any negative impact on sales. In the end, after a great deal of effort, we managed a 70% fill of the theatre throughout the week. This was a great shame, because this was an absolutely superb production that thoroughly deserved to be seen by packed houses every night.
Kevin Hirons once again directed the show, and he also won the leading role of Jekyll/Hyde. He also designed the superbly effective set, which really added to the professionalism of the production. As you can read in the reviews above, all this paid off handsomely for both Kevin, personally, and the Society as a whole. The word-of-mouth on this show was like no other before it.
The chorus was generally split into the 'rich' and 'poor', and were used to their fullest. The principal cast were all very strong, led by Kevin, Alison Adams, Janna Mutton, Tony Jay and Ron Munro. The murder and mayhem were all portrayed in as graphic a manner as possible, with some truly spine-chilling deaths of the Board of Governors adding to the darkness of the piece. The orchestra was superb, led once again by Norma Kift, our Musical Director.
The buzz of the company throughout the week was exceptional. Everyone was truly excited, and knew that they were part of something special. This was further demonstrated when on 13 April 2008 the show won Best Musical in our area at NODA West Midland's awards evening – a well-deserved success that can be shared by everybody involved in the production.
Synopsis of the Show
Songs
Lost In The Darkness
Facade
Board Of Governors/Pursue The Truth
Take Me As I Am
Letting Go
Bring On The Men
This Is The Moment
Alive
His Work And Nothing More
Sympathy, Tenderness/Someone Like You
Murder! Murder!
Once Upon A Dream
Streak Of Madness
In His Eyes
Dangerous Game
A New Life
The Confrontation
The Story
Dr Henry Jekyll is first seen in an asylum near a comatose body, revealed to be his father. It is Jekyll's belief that the evil in his father's soul has caused his illness. Jekyll's passion is to find out why man is both good and evil, and his experiments are an attempt to separate the good from the evil.
Jekyll presents his research to the Board of Governors of St. Jude's Hospital but, with the exception of Sir Danvers Carew, they mockingly reject Jekyll's proposal to experiment on a living human.
Sir Danvers throws a party for his daughter Emma's engagement to Jekyll. The toast of society turns up, including the Board of Governors and Simon Stride, Jekyll's rival for Emma's affections. Stride tries to reason Emma out of her engagement, but she turns him down. Jekyll then arrives, somewhat late for his own party. Later, Danvers tells Emma that he likes Jekyll but worries about his behaviour.
Out that night, Jekyll and his friend John Utterson are tempted into the dingy Red Rat pub by Nellie, a 'lady of the night'. Inside, they watch as a beautiful prostitute, Lucy Harris, sings and dances. After the show Lucy and Jekyll have a drink together. Later, Jekyll gives Lucy his visiting card.
Back at the upper-class part of town, Utterson notices that Jekyll is in a better mood, and suggests that he retires for the evening. Ignoring his friend's advice, Jekyll proceeds to his lab. Mixing his chemicals, he creates formula HJ7 and injects himself. After a few moments, he transforms into a hideous beast of a man. He goes out and roams the streets, drinking in the sights and sounds of London, including an encounter with Lucy. He names himself Edward Hyde.
A week later, and no one has heard anything from Jekyll. His butler, Poole, tells Utterson that Jekyll has been locked in his lab all this time. Suddenly, Jekyll emerges demanding that Poole fetch some chemicals for him. Utterson confronts him, asking him what he's been doing all this time.
Lucy arrives at Jekyll's house with a nasty bite. As Jekyll treats it, she tells him a man named Hyde did it. Jekyll is stunned by this revelation but hides it. Obviously in love with him, Lucy kisses Jekyll. Disturbed by his own actions, Jekyll leaves Lucy, who sings about her love for him.
That night, the Bishop of Basingstoke is seen walking down the street after a 'meeting' with Nellie, the prostitute. Hyde appears and beats the bishop to death with his cane, thus ending Act I.
Act II begins with the people of London discussing the latest news headline: the bishop's murder. After his funeral, General Glossop and Lord Savage leave the church, making snide remarks about their deceased colleague. Hyde appears again and stabs Glossop, while Savage runs for his life.
The Londoners talk about the second murder. Later, Lord Savage, Sir Proops and Lady Beaconsfield drunkenly leave a charity dinner, showing disgust for the lower classes. Once again Hyde shows up, stabbing Proops and snapping Lady Beaconsfield's neck. Savage makes another miraculous escape.
The city reacts to the third and fourth murders. Savage attempts to leave the city by train, but unfortunately for him, Hyde tracks him down and breaks his neck, throwing him onto the tracks.
Later, Emma finds Jekyll distraught in his lab. She begs him to confide in her. Jekyll has to face the fact that Hyde is now a part of himself. Lucy and Emma sing about their love for the same man. Later, Lucy is visited by a very possessive Hyde, who exerts some sort of animalistic control over her.
Utterson comes looking for Jekyll in his lab only to discover Hyde. Hyde drinks the formula and transforms back into Jekyll. He tells an astonished Utterson that he believes he can destroy Hyde.
Utterson visits Lucy at the Red Rat and begs her to leave town and start a new life elsewhere. She sings about the possibility of a new life ahead. Just then, Hyde returns and savagely kills her. A sudden transformation occurs and Jekyll must face what he has done as Hyde. He returns to his laboratory and faces off with Hyde in a final battle, where only one can survive.
It seems that Jekyll has won as, several weeks later, Jekyll and Emma stand before the priest at their wedding. But has Mister Hyde really gone forever? Has good finally succeeded in beating evil?
Credits
Book and Lyric by Leslie Bricusse. Music by Frank Wildhorn. Conceived for the stage by Steve Cuden and Frank Wildhorn. Orchestrations by Kim Scharnberg. Arrangements by Jason Howland.
An amateur production presented by arrangement with Josef Weinberger Ltd on behalf of Music Theatre International of New York. Original Broadway Production by PACE Theatrical Group, Inc.
All songs are: Lyrics by Leslie Bricusse and Music by Frank Wildhorn, except 'Alive', 'First Transformation', 'His Work And Nothing More', 'Once Upon A Dream' and 'Murder! Murder!' which have Lyrics by Steve Cuden, Leslie Bricusse and Frank Wildhorn, and Music by Frank Wildhorn.