The Witches of Eastwick
Tue 15 to Sat 19 November 2016
Palace Theatre, Redditch
Director – Tony Jay
Musical Director – Joe George
Production Assistant – Ryan Allen
Production Assistant – Jean Chalk
Accompanist and MD Assistant – Pauline Sherlock
Nominated for NODA West Midlands Region 12 Best Musical Award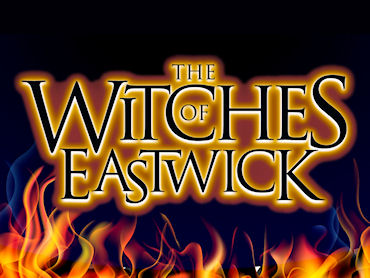 Cast List
| Character | Performed by |
| --- | --- |
| Girl | Kelly-Louise Mitchell |
| Joe Marino | Sam Smith |
| Raymond Neff | Edward Colwell |
| Clyde Gabriel | Tim Eagleton |
| Sukie Rougemont | Danielle Purkess |
| Jane Smart | Lisa Lilwall |
| Alexandra Spofford | Louise Walton |
| Brenda Parsley | Jean Chalk |
| Rev. Ed Parsley | John Reeves |
| Felicia Gabriel | Penny Hoy |
| Gina Marino | Liz Bird |
| Greta Neff | Joy Sidaway |
| Michael Spofford | Paul Mitchell |
| Jennifer Gabriel | Mollie Hallahan |
| Darryl Van Horne | Mark Williams |
| Fidel | Ab Yafai |
| Rebecca, waitress | Grace Kemp |
Reviews
A Challenging Piece of Musical Theatre
The Witches of Eastwick tells of three bored women who live in the small quiet town of Eastwick in Rhode Island, New England. The town is 'ruled' by bossy Felicia until the arrival of Darryl Van Horne.
Mark Williams as Darryl had great charisma and use of body language along with a good voice. Maybe this was how he captured the hearts of the women in the village as in turn he seduces and manipulates them. Each of the seduction scenes were suitably well played. His acting during the voodoo doll scene at the wedding was impressive.
The three witches Louise Walton (Alexandra), Lisa Lilwall (Jane) and Danielle Purkess (Sukie) played their characters with great conviction. They each played their individual scenes well with Darryl as well as the scenes when they were together. Musically they were all well accomplished during individual numbers such as 'Words, Words, Words. However, it was when the three voices came together in 'Make Him Mine' and 'I Wish I May' we heard their true quality. Their singing was harmonious and the acting throughout was equally good.
Bossy Felicia played by Penny Hoy and Tim Eagleton as her downtrodden husband Clyde were perfectly mismatched together. They both gave strong performances. The scenes during which Felicia coughs up items such as a tennis ball and feathers were well staged and believable. Equally well matched were Mollie Hallahan (Jennifer) and Paul Mitchell (Michael) who were charming together and sang equally well. Also worth a mention is Kelly-Louise Mitchell who as Girl sang some annoying songs well.
The band under the leadership of Joe George accompanied the cast well and enabled the cast to be heard when signing. The chorus numbers such as 'Dirty Laundry' and 'Dance with the Devil' were well sung. The choreography was enthusiastically performed with energy.
The set was effective with a permanent backdrop of the church and good use of other pieces of set such as each of the witches and Felicia's houses. In Darryl's house at the end of act one we were able to witness to good effect the witches fly. Well done for achieving this visual effect so well.
Redditch Operatic need to be congratulated for bring this challenging piece of musical theatre to the stage. A big thank you at all for making us so welcome.
Andy Brown, NODA Representative, Worcestershire East
Seduction, Sex and Sorcery
Seduction, sex and sorcery, along with a liberal scattering of naughty humour and vulgar language – on the face of it this was a big risk for Redditch Operatic Society, but in the competent hands of director Tony Jay this gorgeously wacky show was appreciated by an enthusiastic audience.
With truly uncomfortable moments of seduction, the process of deliberately enticing a person to engage in a, often sexual, relationship, this weird show will not have been to everybody's taste.
This 2000 musical is based on the novel by John Updike and originally produced by the legendary Cameron Mackintosh. It was also the subject of a movie starring Cher, Susan Sarandon and Michelle Pfeiffer as the three separated and bored friends in the stuffy town of Eastwick, while scary Jack Nicholson stepped out as devilish new arrival in town and ready to stir things up somewhat, Darryl Van Horne.
Here in Redditch Darryl was manfully portrayed by Mark Williams, whose cheeky depiction was slick, naughty and yes, uncomfortable at times. I have to confess to total admiration for what must have been a challenging part to play, and enthusiastically too.
The three 'ladies' were indeed well cast. Bubbly Jane is a newly divorced music teacher and was adeptly portrayed by the ever-smiling Lisa Lilwall. We mustn't forget this is a musical, and Lisa's voice was among the finest in the show.
Alongside her, Sukie works as a journalist at the Eastwick Word. She was played by the energetic and eye-catching Danielle Purkess, whose powerful voice and energy shone through.
Finally, but certainly by no means least, was the charming Louise Walton as single mother and eccentric sculptress Alexandra. The three gelled beautifully on stage and certainly did their respective parts proud.
Seducing each of the women in turn, Darryl teaches them how to further expand the powers locked within, although there is, I am glad to say, a moral to the story as he ultimately receives his comeuppance.
Stiff-necked pillar of the community Felicia was portrayed by Penny Hoy, whose serious demeanour was perfect for the part, while her unfortunate and hen-pecked hubby Clyde saw society veteran Tim Eagleton delightfully take on the part.
The Girl, who appears every so often as a kind of madcap narrator, was delightfully played by Kelly-Louise Mitchell, while Paul Mitchell so obviously had great fun as the transformed Michael. Special praise however must be reserved for a very brave Mollie Hallahan, who continued with her portrayal of Michael's young lover Jennifer, despite losing her voice (which was sung 'off stage' by Kelly Mitchell, thus saving the day!).
The whole society was brave to attempt this off the wall show, but that bravery did pay off with massive audience appreciation in the end.
Andrew Powell, ex-Editor of The Standard
Sexual Sensations and Great Songs
Redditch Operatic flew into the Redditch Palace tonight for their rendition of the stunning Witches of Eastwick. A tale that narrates three girls, stuck in the dry suburban Eastwick town, who wish for a man that will fulfil all their dreams… "speak of the devil and up he pops!" Darryl Van Horne brings all their 'Wildest Dreams' to life and an equal amount of mayhem to the town too!
Mark Williams brought a new light to the character of the magical Darryl Van Horne giving a cheeky take on this sexual beast of a character. Similarly, the three leading ladies Jane Smart (Lisa Lilwall), Alexandra Spofford (Louise Walton) and Sukie Rougemont (Danielle Purkess) lead the show well as the wishful girls who really came to life in their trio songs 'Make Him Mine', 'I Wish I May' and the finale 'Look at Me' – which was the most stunning number in the show. Undoubtedly, Louse Walton had some of the strongest vocals, which were mightily apparent in her duet with Darryl Van Horne – 'Dream Your Wildest Dreams' – a stunning number.
Other standout performances came from Penny Hoy as the town leader (or dictator) Felicia Gabriel and her on stage husband Clyde Gabriel (Tim Eagleton) who stole all the comic moments with his performance.
The young love-struck couple Jennifer (Mollie Hallahan) and Michael (Paul Mitchell) created a cute, almost cringy, love-filled relationship and most apparent in their duet 'Something' where their respective performances blended nicely together. Despite Mollie's vocal illness, her characterisation was on point and really strong and I wish her the best recovery for the rest of the run.
Ryan Allen's choreography was fitting, with some complex routines sprinkled in and there were some nice magic effects provided. Aside from some issues with the sound balance of the band (it was sometimes a little quiet), if you fancy a night of sexual sensations and great songs then get yourself down to the Redditch Palace Theatre this week and 'Dance with the Devil tonight!'.
Andrew Exeter, Love Midlands Theatre
Some Audience Comments
What a fabulous show, lots of laughs and a bit of blue for the dad's (and mums). Well done to all involved.
Karen Bate, via Facebook
Fantastic and professional performance – we enjoyed every moment! Congratulations everyone.
Sue Loveridge, via Facebook
Fabulous show, really enjoyed it! Great singing, wonderful performances – thoroughly professional!
Nicky Hollamby, via Facebook
We've seen dozens of professional shows over the years your latest production was better than any of them.
Bob Pickett, via Facebook
Really enjoyed the show last night, one of the best ones we've been to at the Palace. Congrats to all involved.
Janet Fryer, via Facebook
Our View
The show was on our 'radar' for quite some time, but worries about the technical requirements of the show (not least the flying sequence for the witches at the end of Act 1) meant we shied away for some time. However, after having seen another society's production in a similar sized (ie. small) venue, we thought we could do justice to it, and finally took the plunge.
Tony Jay took on the considerable dual role of Director and Producer and, together with production assistants Ryan Allen and Jean Chalk, skillfully brought together all the technical and creative elements that the show demands to great effect. Joe George returned as Musical Director, pulling together a superb band, as well as making sure that the considerable singing demands were met – it certainly isn't an easy score!
The set came from Scenic Projects and, whilst various elements had to be cut down (or cut out) as usual to fit the limitations of the Palace Theatre stage, it was extremely well designed with a backdrop of hills and picket fences that stayed in place throughout the show. The rest of the set consisted of almost thirty different trucks, flats and pieces of furniture that were rushed on and off for each scene. The stage crew, led once again by Paul Finch, had their work cut out, but did a superb job.
The flying sequence, with a rig supplied by Kirby's AFX, worked a treat. Bearing in mind the limited size of the stage, we opted for simple up-and-down movement, but combined with mist, smoke, lasers and almost every lighting effect we could throw at it, it really ended the first act in magical style.
The principal players were all superbly cast, with Louise Walton, Lisa Lilwall and Danielle Purkess all excelling in their roles as the 'witches' of the title. And Mark Williams brought his own brand of charm and talent to the demanding central role of Darryl Van Horne.
We found the show a hard one to sell. This came as no surprise to us, since we suspected this would be the case from the start. The adult nature of the piece generally meant children were not brought to see it; the supernatural or occult elements put off some of our church-going audience members; but the biggest problem we found was that since it is a relatively new musical (created in 2000), most people had never seen/heard of the show before, and only had vague recollections of the late 80s feature film. The old adage 'people know what they like, and like what they know' was never more true in this case.
We did our utmost to sell the show, but we ended with a disappointing 57% fill – the smallest audience for one of our shows in recent memory. This was such a shame, because it was a production that deserved to be seen by a much bigger audience, as proven by the many superlative comments and compliments we received from those who did come along. And the company had an absolute blast during show week – so it will always be a show we look back on with positivity and great memories.
Synopsis of the Show
Songs
Eastwick Knows
Make Him Mine
Darryl Van Horne
Waiting for the Music to Begin
Words, Words, Words
Your Wildest Dreams
Something
Dirty Laundry
I Wish I May
Another Night at Darryl's
Dance With the Devil
Evil
The Glory of Me
The Story
The setting is the small town of Eastwick, Rhode Island, some time in the 1960s.
One fine day, the folk of the town congregate and proudly sing about their community – one in which everybody knows everybody else's business. At the same time we meet our three leading ladies: Alexandra, Jane and Sukie. All are divorced, and are each having an affair with married men from the town.
Felicia Gabriel, the wealthy, bossy, self-appointed spokesperson for the town enters to make a speech on behalf of the Eastwick Preservation Society. They intend to purchase a large property, called The Lennox House, on the outskirts of town which has been empty for a some time, and restore it to its former glory. Unfortunately, before she can go into any more detail, there is a huge thunderstorm and everybody quickly scatters.
We follow Alex, Jane and Sukie into Alex's house, where they settle down to their usual routine of drinking martinis and talking about men. Whilst Alex and Jane are just having casual flings with their current men, Sukie is having a more meaningful relationship with Clyde Gabriel, Felicia's husband. They work together at the local newspaper. We also meet Alex's son Michael and his girlfriend Jennifer Gabriel – Felicia and Clyde's daughter. They're a sweet young couple, enjoying their last few days together before Jennifer goes away to college. The scene ends with the three ladies singing about their ideal man.
At Felicia's house we see her and Clyde's getting ready to go out to a concert in aid of the Preservation Society. We learn more about their loveless marriage, and see that Clyde has turned somewhat to the bottle. Suddenly the phone rings and Brenda, the Minister's wife calls to say that the Lennox House has been bought from under their noses by an unknown buyer from New York. Felicia is unsurprisingly furious at the news.
The action next moves to that evening's fundraising concert, where all the townsfolk talk about the house purchase, even though nobody knows who the new owner is. All of a sudden, he appears, and we meet Darryl Van Horne for the first time, together with his manservant Fidel. With his suave appearance and sexual, hypnotic manner Darryl makes quite an impact on everybody. Apart from Felicia, of course, who instantly clashes with him. Darryl introduces himself to the townsfolk, and catches sight of Alex, Jane and Sukie on the fringes of the room.
Later, in Jane's house, she is practising a difficult piece of music on her cello. Darryl enters, and soon enchants her as they play a duet together. Towards the end of the song, we see a sign of the magic to come as the cello starts playing by itself, just before Jane succumbs to Darryl's charms and she flings herself at him.
Next, Darryl visits Sukie's house. Sukie yearns to be a writer, particularly of poetry, but she's better at writing words than she is at saying them, often getting tongue tied. She sings a G&S-type patter song that gets faster and faster throughout, and gets her more and more excited, and she also ends up in Darryl's arms.
Next we visit Alex's pottery studio. Despite her bravado, Alex is unhappy with her appearance and has low self-esteem. Darryl enters, and after a short bit of verbal sparring between them, they sing a song at the end of which, she's all his.
The next day, the three ladies individually visit Darryl's house for a game of tennis. They are surprised to find the others there, too, and they find out that that he has been carrying on with all three of them. After a bit of awkwardness between them, they realise that this exciting, devilish man was exactly what they wished for, and decide they'll all share him!
That night, we see Michael and Jennifer out together for an evening under the stars. We know that Jennifer is going away to college the next week, so they're making the most of their remaining time together, and sing about their hopes and dreams.
Back in Eastwick, the women of the town are hanging out their laundry, and having a good gossip about the goings on at the Lennox House. This kicks off a big song/dance number that also involves Felicia and some men from the town.
Later, Alex, Jane and Sukie appear in beautiful evening gowns, and sing a haunting song about their dreams when they were young. They then step into Darryl's home, where he and Fidel greet them with a tray of drinks. The talk soon turns to their mutual dislike of Felicia Gabriel. Darryl produces a cookie jar and encourages them to let their true feelings out. One by one, they drop something into the jar. While this is going on, we see Felicia in her home, and as each item is dropped into the jar it materialises in her mouth and she coughs it up – first a tennis ball, then a string of pearls and finally some feathers before she runs off, horrified. Back in the house, Darryl presents the ladies with a book of magic, and they beg him to teach them everything. The magic truly begins, and with Darryl urging them to send their 'spirits soaring skyward' the three witches suddenly rise up and start to fly!
Act two begins with the three ladies feeling very happy with life, as they each prepare to go out for the night.
We then visit Nemo's Diner, where young Michael works. It is the regular hangout for the men of the town, including Clyde. Felicia marches in looking for him, but Darryl suddenly turns up, too. There's another war of words between them and Felicia leaves. Darryl gives Michael, in particular, some advice on how to handle women.
Later, we visit Darryl's bedroom, where the three ladies are dressed in stunning red lingerie. They join him on the bed. However, before they get too carried away, Fidel brings Darryl a letter written by Felicia, informing them that the Preservation Society are going to sue him in attempt to wrestle the house back from him. Darryl is furious, and storms off only to return with the cookie jar again. He encourages the three ladies to once again work their magic, and they together begin casting another set of spells on Felicia.
The scene immediately switches to Felicia's living room, and we find her coughing up various things like bits of trash, feathers and coins. A drunken Clyde enters, and she feverously sings a song about the evil going on all around her [EVIL]. During this, she gets more and more agitated, and taunts her husband by reminding him his beloved Sukie is part of the sexual goings-on. Clyde finally snaps, picks up a poker, and bashes her head in.
The police sirens go off, and the townsfolk congregate, shocked at the news that not only has Felicia been killed, but Clyde has taken his own life, too. We see Jennifer returning home from college to sort out the funeral arrangements. Alex, Jane and Sukie are soon on the phone to each other, and they all realise that things have got way out of hand. None of them really wanted to hurt Felicia, let alone get her killed. They resolve there and then to stop seeing Darryl, knowing that he was behind the corruption.
Three weeks later, and despite receiving increasingly angry phone calls from Darryl, the ladies have still had no contact with him. They decide, however, that they need to retrieve some of their belongings that they've left behind at his house. On entering, they find Darryl in a dreadful state, all dishevelled and decrepit. There's a big argument, during which he tells them that they are nothing without him. They really begin to see his true side, but despite his threats they gather their belongings and leave.
On their way home, Alex, Jane and Sukie pass by the graveyard, where Jennifer Gabriel is laying flowers at her parents' gravestones. Once they've left, Darryl appears and, sensing an opportunity, he immediately starts the seduction of poor, vulnerable Jennifer.
The townsfolk have gathered for another gossip, when Darryl parades by with Jennifer on his arm. He has persuaded her to marry him. Alex, Jane and Sukie are horrified at the news, and decide that they must combine their growing powers to rid the town of this man.
In another place, we see Darryl congratulating himself on his upcoming nuptials, and he sings a song dedicated to himself that the townsfolk join in with.
The final scene is at the church where the town have gathered for Darryl and Jennifer's wedding. As it begins Alex, Jane and Sukie enter unseen from the side. They bring a voodoo-like doll with them, which they start to prick with a needle. Each time they do this, Darryl gets a stabbing pain in various parts of his body. He reacts in fury when he realises that the three women are behind this, but Sukie takes a bite at the dolls crotch, which brings Darryl to his knees. There is thunder, wind and fury as Darryl is pulled back towards the church, which explodes with a bang as he disappears.
After everyone has got over the shock, Michael and Jennifer come together again before everybody leaves Alex, Jane and Sukie on their own. The show ends with them singing for one final time. They are about to walk off into the moonlight, but suddenly each of them has a strange feeling in the pit of her stomach. They quickly realise the Darryl has left each of them with something to remember him by… in nine months time!
Credits
Book and Lyrics by John Dempsey.
Music by Dana Rowe.
Based on the Novel by John Updike and the Warner Bros. Motion Picture
New Orchestrations by Chris Egan and Christopher Jahnke
Original Orchestrations by William David Brohn
Originally produced on the London Stage by Cameron Mackintosh
An amateur production by arrangement with Josef Weinberger Ltd on behalf of Music Theatre International and Cameron Mackintosh Ltd.