We have invested in a badge making machine, capable of producing high quality badges, fridge magnets and other similar items. We made the purchase because we want to create an official 'collectable' for every show that we do from 2001 onwards, for the Society members to keep as a memento.
Why don't you consider something similar for your Society members or company? If you'd like us to create badges for you, just get in touch and we'll discuss the process with you.
Alternatively, you may like to hire the badge making machine itself. This makes an ideal activity, especially if you've got a group of children to occupy. We've hired the badge maker out to a number of organisations in the past – for schools, fetes, stands, etc. The cost of hire begins at just £20 for a week. For further information, please contact Tony Jay on 01527 455001.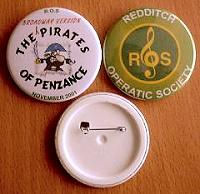 The Society has purchased a portable two-stand lighting rig suitable to light performances away from the theatre. We have used these lights to great effect during concert tours and in churches.
Hire of the rig is just £50 per week. In addition, you may be able to hire one of our crew members to operate the lights for you (West Midlands vicinity only).
The system plugs into two 13A sockets, and consists of four Strand fresnel (soft edge) spotlights and 500W lamps, two Strand profile zoomspots with 500W lamps, plus two 10m control extension cable and two 2150mm (maximum height) telescopic stands. Each component is of the highest quality and CE marked where applicable.
For more information about the lights, please contact Tony Jay on 01527 455001.