White Christmas
Tue 20 to Sat 24 November 2018
Palace Theatre, Redditch
Director – Tony Jay
Musical Director – Joe George
Choreographer – Paula Lacey
Production Assistant – Jean Chalk
Accompanist and MD Assistant – Pauline Sherlock
Nominated for NODA West Midlands Region 12 Best Musical Award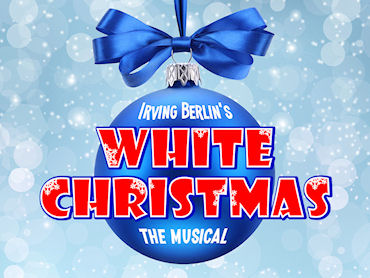 Cast List
| Character | Performed by |
| --- | --- |
| Ralph Sheldrake | John Reeves |
| Bob Wallace | Paul Mitchell |
| Phil Davis | Ryan Allen-Rose |
| General Henry Waverly | Tim Eagleton |
| TV Announcer | Russell Hay |
| Rita | Roz Chalk |
| Rhoda | Kelly Mitchell |
| Tessie | Tessa Lodge |
| Judy Haynes | Laura Woodall |
| Betty Haynes | Emma Sansom |
| Jimmy | David Eagleton |
| Mrs Snore | Eleanor Peberdy |
| Mr Snore | Matt Bridgewater |
| Martha Watson | Ann Mayor |
| Susan Waverly (Tue, Thu, Sat Eve) | Jessica Taylor |
| Susan Waverly (Wed, Fri, Sat Mat) | Kirsty Vale |
| Ezekiel Foster | Matt Bridgewater |
| Mike Nulty | Samuel Smith |
| Nancy, Dance Captain | Danielle Purkess |
Reviews
An excellent principal line-up, timeless songs and a first rate orchestra
This week, the beautiful Palace Theatre in Redditch is host to Redditch Operatic Society's production of White Christmas, the musical based on the 1954 movie made famous by Bing Crosby and Danny Kaye, featuring those well-loved songs by Irving Berlin, the song "White Christmas" being a blockbuster hit that we still sing today when the baubles and mistletoe have their yearly airing. And ROS have really gone to town to deliver a fun and sparkling show.
Ok, so its not the most dynamic of story-lines but when you have strong stage direction by Tony Jay, an excellent principal line-up, timeless songs and a first rate orchestra lead by Joe George, you really are onto a winner.
Ryan Allen-Rose, playing Phil Davis and Paul Mitchell playing Bob Wallace, bring lots of all-singing-all-dancing energy to the stage – vibrant Phil, the ladies' man, with his wit and boyish charisma, and sensible Bob, a rather more principled character who is searching for true love, both deliver the songs with excellent voices and have a very appealing onstage chemistry.
Emma Sansom as the responsible Betty and Laura Woodall as the more starstruck Judy are the beautiful Haynes sisters, both well cast with, again, excellent singing voices and character. I really enjoyed their 'Sisters' number, which was later hilariously recreated by the boys with rolled up trews and the iconic blue feathered fans.
Ann Mayor as Martha Watson, the former Broadway star and now housekeeper, brings the best of the humour to the stage with her dry, one-liners, persistent meddling and witty retorts and entertains us with her belting top hat routine Let me sing and I'm happy (and she certainly was) and Tim Eagleton as US Army General Henry Waverly is a fine actor, portraying the stern and sensible General with strong principles and a warm heart.
Ralph Sheldrake, the Ed Sullivan TV show producer and former army buddy of Bob and Phil, is played by John Reeves, and John really gets that swanky New York professional personality across perfectly, as do the dim-witted, giggly chorus girls, Rita (Roz Chalk) and Rhoda (Kelly Mitchell), who are perfectly pretty and very silly. Jessica Taylor is delightful as the General's granddaughter, Susan, and she performed a confident reprise of Let me sing and I'm happy. Samuel Smith plays the energetic stage manager, Mike Nulty and Tessa Lodge as Tessie and Matt Bridgewater as Ezekiel Foster both give self-assured performances and complete the lead line-up, with Matt receiving many giggles from the enthusiastic audience.
The principals are supported by a very large cast (at one point I thought they were attempting the Guinness book of records entry for the most dancers on one stage at any one time), but the fun and happiness was apparent and everyone performed well with some really nice standard routines from the tappers and some well choreographed formations, all under the choreographic direction of Paula Lacey, whom I applaud for such a large undertaking. A shimmering set with twinkling Christmas tree and 'real' snow was a treat and show highlights included Betty and Bob's How deep is the ocean, Bob and Company's Blue Skies and an audience participated rendition of White Christmas'
There were a few first-night hiccups, which I am sure will be ironed out quickly and American accents came and went a couple of times but, in all, ROS have delivered a sparkling, festive, family show with a lovely light design and great sound quality. 
So, if you enjoy the very beautiful surroundings of traditional theatre, are a fan of superbly orchestrated music and fancy an alternative to panto, then this is for you.
Love Midlands Theatre
Magical Opening Night
THE cast of 'White Christmas The Musical' put on a magical opening-night performance at Redditch Palace Theatre on November 20.
Redditch Operatic Society's production of White Christmas is based on the 1954 movie made famous by Bing Crosby and Danny Kaye. It lived up to the billing thanks to a talented cast who sang their hearts out and dripped with energy during the two-hour show.
Songwriter Irving Berlin has left behind a lasting legacy because each song is as timeless as the next. Classics such as Blue Skies, Sisters, I Love a Piano, How Deep is the Ocean and, of course, everyone's favourite title song are well performed.
The story is centered around the friendship of Americans Phil Davis, played by Ryan Allen and Bob Wallace played by Paul Mitchell. They fall in love with sisters Betty (Emma Sansom) and Judy Haynes (Laura Woodall) who both have exceptionally good singing-voices. The onstage chemistry between the four of them is undeniable, charming and leaves lasting impressions from scene to scene.
Bob and Betty's 'will they won't they' love affair makes up some of the best moments along with Ann Mayor as Martha Watson with her one-liners.
But it's not all cutesy romance because the gags made throughout the show also successfully land on the audience. Some of the biggest laughs come when characters Rhoda and Rita appear on stage. They are extremely whiny but typically slapstick. Afterwards Kelly Mitchell, who plays Rhoda, said: "It was great fun. There's no way to explain the buzz you get from performing and my character is very fun to play – even if she does have some questionable outfits."
Stage director Tony Jay also deserves as a mention as his sets take you from the beating-heart of New York all the way to a snowy Vermont Finale.
Harry Leach, Redditch Standard
Warm and entertaining classic
There is something particularly enduring about Irving Berlin's White Christmas that it is difficult to put your finger on, whether it is all that snow, the captivating storyline or just the title track is probably down to the individual but, Redditch Operatic Society deliver a warm and entertaining version of what is very likely the ultimate classic.
Tony Jay's exemplary direction, Paula Lacey's definitive choreography and Joe George's interpretation of Berlin's score, serve to provide something that not only entertains but, also engages the audience in what is a maze of stories that could very easily lead to confusion but, in actual fact leads to empathy with the relationship challenges and miscommunications that many will no doubt have suffered themselves.
Whether it's the velvety tones of Paul Mitchell as Bob Wallace, the multi-talented Ryan Allen-Rose as Phil Davis, the delectable Laura Woodall as Judy Haynes or the enchanting Emma Samson as Betty Haynes this is a perfect combination of talents to lead a substantial cast of local talent.
Ann Mayor is a magnificent Martha Watson, attempting to control the life of ex General Henry Waverly, played with precision by Tim Eagleton whose granddaughter Susan, played at this performance with some style by Kirsty Vale is a budding star in her own right.
Roz Chalk and Kelly Mitchell provide a beautifully giddy partnership as Rita and Rhoda, John Reeves is a forthright Ralph Sheldrake, Samuel Smith executes a lively performance as Mike Nulty and there is some magical characterisation from Matt Bridgwater as the very funny Ezekiel Foster.
It's not often that Dancers get much of a mention in reviews, unless of course the principal players are by nature dancers but, there is a team of Tappers and Hoofers including Hannah Finch, Sophie Hill, Carole Massey, Deborah Mitchell, Danielle Purkess, Cassie Rivett, Joy Sidaway and Lisa Smith who add that little bit extra to this production.
You only have a couple of performances left to experience that snow, snow, snow, so get some tickets while you still can.
Tim Hodge, Musical Geek
A great start to the Christmas countdown
The stage show is based upon the popular 1954 movie of the same name with music and lyrics by Irving Berlin staring Bing Crosby and Danny Kaye. The musical premiered in the year 2000 and has become a popular choice for many societies performing at this time of year.
The show opens with our two male leads Bob Wallace played by Paul Mitchell and Phil Davis played by Ryan Allen- Rose performing for the 151st division on Christmas Eve 1944 somewhere in Europe. Opening numbers of 'Happy Holiday' and 'White Christmas' put us in the mood for this Christmas spectacular. During the opening scene we also encounter Ralph Sheldrake played by John Reeves and General Henry Waverly played by Tim Eagleton both of whom we are going to see later as the show progresses.
Jump 10 years and Bob and Phil are successful entertainers appearing on the Ed Sullivan Show with Ralph as the producer. Both Paul Mitchell and Ryan Allen-Rose fulfilled the need to portray their respective characters well. They both manged to sing and dance their way through the whole show with ease, conviction and believability. One the fun-loving character while the other was more level headed. 
Bob and Phil meet sisters Judy and Betty Haynes played well by Laura Woodall and Emma Samson who introduced themselves to us with their rendition of 'Sisters'. This was only to be overshadowed by the reprise in act two when the male leads performed this number. Laura and Emma also worked well together, and both had good singing voices.
Bob believes he is going to Florida with Phil. However, Phil has other ideas and wishes to follow the sisters to Vermont for the holiday.
On route to Vermont the whole chorus sang 'Snow' and although only minor roles I did enjoy the performances played by Matt Bridgewater and Eleanor Peberdy as Mr and Mrs Snore both making the most out of this scene.
Once the four arrive at Vermont they check in to The Columbia Inn. The inn is managed by Martha Watson and General Henry Waverly and his daughter Susan Waverly.  Martha Watson a onetime Broadway star was the main comic role in the show and was in the capable hands of Ann Mayor. Her comic timing and dry delivery of one liners was faultless and she was a highlight of the show including her excellent performance of, 'Let me Sing and I'm Happy'.  Tim Eagleton gave a fine performance as the General as did Kirsty Vale as Susan who sang the reprise of 'Let me Sing and I'm Happy' with confidence.  
Other roles included Roz Chalk and Kelly Mitchell as rather giggly Rita and Rhoda and Samuel Smith as the rather frustrated Mike Nulty – the stage manager. Matt Bridgewater made a second appearance as Ezekiel Foster during which he made the most of the character.
The large chorus sang well throughout their numbers and the dancers came into their own and deserve a mention as they were a delight to watch. Therefore, congratulations to Hannah Finch, Sophie Hill, Carole Massey, Deborah Mitchell, Danielle Purkess, Cassie Rivett, Joy Sidaway and Lisa Smith. The stage was at times very full with the whole chorus in place but good to see so many members of the society wanting to take part in the show. I would however have liked to have seen a bit more attention to some hairstyles with chorus members as some did not look as though, they were in the mid 1950's.
The music was in the safe hands of Joe George and eleven musicians. As always with Joe the band played well together and sounded good throughout. At no time was the band over powering meaning the cast were not having to battle against them to be heard.
With just over a month before Christmas the show was a great way to start the count down to a special time of year not least with the final costumes, Christmas tree, snow effect and audience participation. 
Redditch Operatic Society were able to announce their show for next year and I most certainly look forward to Cats by Andrew Lloyd Webber next November followed by Shrek: The Musical in 2020.
Andy Brown, NODA Representative, Worcestershire East
Some Audience Comments
Well done to all concerned with White Christmas. Loved it. Cracking show.
Alison Medway
Watched the show on Friday, you were all fantastic – loved the show.
Patti Pearce
Well another fantastic show by ROS at Palace Theatre. White Christmas has certainly put us in the festive mood. You were all brilliant as usual!
Beverley Murrell
Stunning delightful and hugely entertaining performance this afternoon. The singing and dancing was superb and you should all take a big bow for that. Loved it!
Kevin McGovern
Congratulations to all at ROS. Tonight's show White Christmas was brilliant. I loved it and now feeling very festive!
Michele Hayward
Our View
At first, we thought that White Christmas was going to be a pleasant little show that would nicely fill the gap in a year when no particular 'blockbuster' was available to us. How wrong we were! White Christmas turned out to be a great show, that looked and sounded fabulous on stage, and which did incredibly well at the box office.
Feedback was glowing, with many superlatives being said and written, including some great reviews.
In terms of budget, this 'nice little show' actually turned out to be our biggest one yet, with a spend of over £33,000. It was all up there to see, however, which is what the audience loves… after all, they are now paying a premium price to see amateur shows at any theatre, and they deserve a premium experience.
We even had two very rare moments when the audience burst into applause simply seeing the curtain rise on a scene. The first was immediately at the start of Act 2, when the tabs rose on the 'Piano' scene, with everybody dressed in black and white. And the second was even more pronounced when the final 'Christmas tree' scene was revealed, complete with snow and stunning costumes. It looked absolutely amazing, and was just the kind of finale that the show deserved.
We heartily recommend this show to any society who wants to please both your audience members and your company members (there's lots for them to do). Although, like us, you'll probably benefit from presenting this in November/December, in the lead-up to Christmas. It might not sell quite so well in the spring or summer months!
Synopsis of the Show
Songs
Happy Holiday
White Christmas
Love and the Weather
Sisters
The Best Things Happen While You're Dancing
Snow
What Can You Do With a General
Let Me Sing and I'm Happy
Count Your Blessings Instead of Sheep
Blue Skies
I Love a Piano
Falling Out of Love Can be Fun
Love, You Didn't Do Right By Me
How Deep is the Ocean
I've Got My Love to Keep Me Warm
The Story
The show begins somewhere on the Western Front during World War II. It's Christmas Eve 1944, and a bunch of GI's are being entertained by a couple of their buddies – Captain Bob Wallace and Private Phil Davis. Next, General Henry Waverly enters to tell them the men he's being sent home due to a shrapnel injury. He says a fond farewell to his men, and ponders where they will all be in ten years time.
We skip forward to 1954. Bob and Phil have now become big stars, and their production company are performing on the popular Ed Sullivan Show. They perform a big routine before Bob and Phil tell the audience that they're off to Miami to develop their next new show.
In Bob and Phil's dressing room they're interrupted by Ralph Sheldrake, one of their old army buddies, who is now a big-shot TV producer who congratulates them on their performance. Bob and Phil are due to catch the train down to Florida, but before they do, Phil suggests that they visit a downtown club for the evening where two sisters of one of their old squad are due to perform. Bob's not keen, sensing that Phil is trying to fix him up with some female company again, but Phil persuades him that he needs a bit more fun in his life.
We also meet Betty and Judy Haynes, in their dressing room, as they get ready for their show. Judy has heard that Bob Wallace and Phil Davis are coming to see them and excitedly shares the news with her sister.
At Jimmy's Nightclub in downtown New York, Betty and Judy perform to an appreciative audience, including Bob and Phil. Afterwards, Betty and Judy are introduced to the two guys. Phil and Judy hit it off straight away, but Bob and Betty are both a little awkward around the opposite sex, and their chat is a little spiky. The guys learn that the girls are travelling to Vermont that evening, also by train, where they have a booking for the Christmas period. Phil and Judy get up to dance together during which they conspire to get Bob and Betty together.
Soon, we're on a busy train and Bob, who believes they're on the way to Florida, is wondering why they're surrounded by people dressed in winter woolies. Phil, of course, has contrived to put them on the same train as Betty and Judy, heading to Vermont. And as soon as the girls appear in the carriage, Bob realises he's been had. Phil and Judy extol the virtues of Vermont in the wintertime, and everybody sings of the snow.
At the Columbia Inn in Vermont, the housekeeper, Martha, is fending off complaints from disgruntled train passengers who have arrived to ski, only to find there is no snow at all. We also meet Susan Waverly, the granddaughter of ex-General Henry Waverly. Our quartet of Betty, Judy, Bob and Phil arrive at the Inn, where the girls are due to perform. There, Bob and Phil meet Waverly for the first time in ten years, and learn that he now owns the Inn. They hear that the General has fallen on hard times, having sunk all his money into the failing Inn. In desperation, he has re-applied for a position in the forces. Once the General leaves, Bob suddenly has the great idea of bringing their company up to the Inn to rehearse their new show. He also suggests they get some of their old army friends to visit for Christmas, thus bringing in some money for the General.
The only rehearsal space for the company is in the old barn, where we meet Ezekiel, the Inn's extremely laid-back handyman. The company arrive, accompanied by Mike, their very dramatic and excitable stage manager/choreographer. As they start a vocal warm up, Martha bursts into a big number, and we learn that she was once quite a performer herself.
That evening, Susan sits on a bench outside and prays for her Grandpa. Bob arrives and Susan shares her worries with him. Unnoticed, Betty watches them. Bob sings to Susan before she goes off to bed. Betty and Bob then spend some time together, during which they both start to realise they might have some feelings for each other.
Back in New York, at Bob's request, Ralph Sheldrake has sent out letters to all their old army friends requesting that they visit the Inn for Christmas and he's had a reasonable response. He wants to pass the good news onto Bob, so he phones the Inn. Martha answers the phone. Unfortunately, when Sheldrake says that the company is ready to come and take over the Inn, she misinterprets this as Bob is planning a surreptitious financial take over.
Back in the rehearsal barn, Betty tells Judy that she is starting to develop feelings for Bob. Unfortunately, Martha arrives and confides in Betty that Bob is planning a buy-out of the Inn. On hearing this, Betty is curt to Bob when he arrives, and she walks away. However, before Bob can go after her, the company go into rehearsal for their big production number.
Act 2 begins back in the barn with another big number for Phil and Judy. After the song, Martha comes in to tell Judy that Betty is packing her bags and is leaving for New York. Betty admits to Judy that she had fallen in love with Bob, but has now changed her mind. Betty collects her hat and coat and leaves for New York.
Back in the barn, the team wait to set the lights for Betty and Judy's big number, but they're nowhere to be found. Instead, Bob and Phil take the initiative and sing the number themselves. Then, Susan arrives and tells Bob that Betty has left for New York. The General directs Bob to go after her.
We now visit The Regency Room, a classy club in Manhattan where Betty has begun her first solo engagement. She sings a sultry number not noticing as Bob who stands unnoticed amongst the other patrons. After the song, Bob goes to speak with her, but she is still cross with him. Just then Ralf Sheldrake enters. Bob asks if he could have a spot on the Ed Sullivan show the next day. Bob says a reluctant goodbye to Betty and leaves. Sheldrake then says what a great guy Bob is, trying to help the General, and Betty begins to realise that she has got the facts wrong. She asks Sheldrake to tell her the real story.
On the Ed Sullivan Show the next evening, Bob uses his spot to make a final call to the remaining members of their old army division to go up to Vermont and help the General make a success of the Inn over Christmas.
Next day, back in Vermont at the Inn, the gang are waiting for Bob to return. When he does, he reluctantly tells them that he couldn't persuade Betty to return with him. The General enters, and tells them that his latest request to return to the army has worked, and that he will shortly be posted to Europe.
Back in the barn, Phil brings Bob a small gift box that somebody has sent for him. Bob opens it, and finds a music box that begins to play. Suddenly, we hear Betty's voice singing, and she enters the barn. She admits to Bob that she had got his intentions regarding the Inn so very wrong, and that she loves him. And, after a bit of a sing, they kiss.
That evening, in front of the show curtain, Martha pushes Waverly onto the stage where he suddenly sees that there is a big audience waiting for him. We see the soldiers as they come marching down through the audience. Waverly is touched to see so many of his old colleagues present. He announces that despite his invitation, he is not going to re-join the forces after all and is going to make a success of the Inn, with everybody's help. Bob leads everybody in a song. Suddenly Susan rushes on to announce that it is finally snowing outside, and the General commands Ezekiel to lift the curtain.
In the final scene, everybody sings joyfully as the snow falls.
Credits
Music and Lyrics by Irving Berlin
Book by David Ives and Paul Blake
Orchestrations by Larry Blank. Vocal and Dance Arrangements by Bruce Pomahac.
Original Stage production directed by Walter Bobbie.
Based on the Paramount Pictures Film. Written for the screen by Norman Krasna, Norman Panama and Melvin Frank.
An amateur production by arrangement with R&H Theatricals Europe: www.rnh.com