CATS
Tue 19 to Sat 23 November 2019
Palace Theatre, Redditch
Director – James Baldwin
Musical Director – Joe George
Choreographer – Paula Lacey
Accompanist and MD Assistant – Pauline Sherlock
Executive Producer – Tony Jay
Creative Consultant – Stephen Duckham
Dance Captain – Deborah Mitchell
Costume Mistress – Jean Chalk
Winner of NODA West Midlands Region 5 Best Musical Award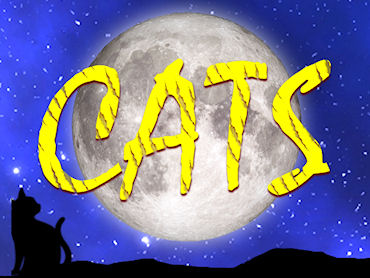 Cast List
| Character | Performed by |
| --- | --- |
| Munkustrap | Ryan Allen-Rose |
| Demeter | Sophie Hill |
| Skimbleshanks | Jeremy Dobbins |
| Gus (Asparagus) | John Reeves |
| Rum Tum Tugger | Paul Mitchell |
| Electra | Roz Chalk |
| Bombalurina | Kelly Forrester |
| Jellylorum | Liz Bird |
| Cassandra | Carole Massey |
| Jemima | Lucy Traves |
| Bustopher Jones | Tim Eagleton |
| Jennyanydots | Danielle Purkess |
| Victoria | Holly Lovell |
| Rumpleteazer | Caitlin Moonan |
| Quaxo | Russell Hay |
| Mungojerrie | David Eagleton |
| Grizabella | Laura Woodall |
| Griddlebone | Kelly Mitchell |
| Old Deuteronomy | Matt Bridgewater |
| Rumpus Cat | Kirstie Boyden |
| Growltiger | William Beldham |
| Macavity | Deborah Mitchell |
| Mr Mistoffelees | Jacob Finch |
Reviews
A performance of cat-apultic proportions
It's not often you can say that there is a performance of cat-apultic proportions and it have a double meaning, so I have to take the opportunity to describe the Redditch Operatic Society production of Cats with just that word as it launches itself full throttle at an unsuspecting audience.
Choreography by Paula Lacey is nothing short of incredible, not the largest stage, an extensive cast and yet at no point did any scene feel overcrowded, instead some visually stunning interpretations of T.S.Eliot's poems.
So to the performers about whom there is so much to extemporise as this is by no means your average musical, it needs something that bit greater in talent to deliver successfully. Whether it's the sheer gymnastic athleticism of Jacob Finch as Mr Mistoffelees and Kirstie Boyden as The Rumpus Cat, the velvety vocals of Sophie Hill as Demeter and Laura Woodall in the iconic role of Grizabella or the pinpoint characterisation of John Reeves as Gus, Paul Mitchell as Rum Tum Tugger, Tim Eagleton as Bustopher Jones and Jeremy Dobbins as Skimbleshanks there is something for everybody in this production.
Ryan Allen-Rose is the perfect storyteller in the narrative role of Munkustrap, Danielle Purkess taps up a storm as Jennyanydots, David Eagleton and Caitlin Moonan attract unswerving attention as Mungojerrie and Rumpleteazer, Matt Bridgwater is a commanding presence as Old Deuteronomy, Deborah Mitchell electric as Macavity (as well as the Dance Captain) with William Beldham and Kelly Mitchell providing feisty portrayals of Growltiger and Griddlebone.
I've always had a soft spot for one short but, powerful song in this show, that being 'The Ballad of Billy McCaw' and I wasn't disappointed, I can almost hear Billy playing on his pastoral flute or moley guitar right now and that tear may appear which will no doubt cause me to order more beer, it's inevitable!
There are some specific names that I cannot finish without giving the utmost praise to, those being the Make-up Team of Beth Hemmings, Clare Marshall, Sophie Traves and Natalija Webb alongside Wardrobe Mistress, Jean Chalk, truly outstanding contributions without which there simply wouldn't be such a triumph to witness.
I could seriously mention each member of the cast by name and have something great to say about them but, that's not what a review is meant to offer, suffice to say that I'm sure James Baldwin as Director and Joe George as Musical Director have found this an amazing team to work with, that certainly is what the performance suggests.
Unfortunately for those who don't have a ticket this is a sell-out but, you might want to call the Palace Theatre in Redditch just in case there are any returns, the run finishes on Saturday 23rd November 2019.
Tim Hodge, Musical Geek
Weird and wonderful
Two words: weird and wonderful. By my own long-standing admission this is not my favourite Lloyd Webber creation. It really is a series of sketches about cats with a barely detectable storyline, and not being a cat lover doesn't help! So that's the 'weird' element.
However Redditch Operatic Society with Director James Baldwin at the helm came up with a magical show which was professionally executed in every aspect. And that's the 'wonderful' bit.
Now don't get me wrong, I'm a massive Andrew Lloyd Webber fan, but by his own admission, the enormously successful Cats is essentially a series of sketches describing the attributes of a bizarre selection of felines, loosely based on TS Eliot's book of poems entitled Old Possum's Book of Practical Cats.
And of course it sky-rocketed the career of a certain Elaine Paige in the West End.
Visually the show is stunning – the costumes and make-up are astonishing, while the attention to detail in identifying each cat must have been painstaking, but certainly paid off. I had the fortune of sitting in the front row, so had the pleasure of cats leering into my face for part of the performance leaving me not knowing quite where to look, but it all added to the intimacy that made the presentation come alive.
Musically and for me, the best parts of the whole show were the duet performances, probably the best being Mungojerrie and Rumpleteazer. The pair were magical together and Caitlin Moonan as the latter was slick in every sense of the word. Entrancing!
In the second half The Ballad of Billy M'Caw, comprising John Reeves as Gus, William Beldham as Growltiger and and Kelly Mitchell as Griddlebone, was superb, closely followed by Macavity the Mystery Cat with the excellent Sophie Hill as Demeter and Kelly Forrester as Bombalurina.
The Elaine Paige part (scruffy outcast Grizabella, who eventually makes it to heaven) was played by Laura Woodall, and when considering the large boots she had to fill, performed 'Memory' to huge and well deserved applause.
In fact everyone performed extremely well – too many cats to mention individually, but all with their own character.
Am I converted? On the strength of this performance I'm a long way towards it. I do understand the plot a little more now, but I'm anxiously awaiting a musical about dogs!
Andrew Powell, writing for the Redditch Standard
A show to stick in the memory
CATS is one of those musicals people often say they love or really don't like. However, it ran for 21 years in the West End so managed to find enough support and audience for all that time. Is it somehow different to most musicals? Yes, it is – not many musicals are based of a book of poems namely TS Eliot's Old Possum's Book of Practical Cats.
CATS has only recently become available for amateur societies making Redditch Operatic Society the first to perform this within the district.
What is very different about CATS is reference to costumes and make up. These are usually of course an important element to every show but in this one they are a vital element.
In this production both were superb, and congratulations need to be extended to Jean Chalk for coordinating the costumes. The costumes were impressive such as Tim Eagleton's Bustopher Jones who strutted with ease around the stage with elegance.
With regards to make up again congratulations to Beth Hemmings, Clare Marshall, Sophie Traves and Natalija Webb for the sheer amount of input needed to make up a cast of fifty. Even knowing or recognising many in the cast the makeup made it difficult to work out who some people were. This meant the makeup worked! In short, the makeup and costumes combined were amazing.
CATS in many respects does not have an obvious lead. Many of the characters have their moment of fame as they enact the poem in which they are featured. However, with a cast of fifty this would be huge on most stages. The stage at The Palace is by no means large so getting so many involved was no mean task and only a few times did the stage look overly crowded.  With such a sizable cast it would therefore be impossible to mention all involved and apologies from the onset to those missed!
The opening numbers including Jellicle Songs for Jellicle Cats and The Naming of Cats were both well staged with good movement and many a cat coming right down stage to glare at the audience. The words in these numbers were crisp and clear.
The first cat to become known and then act as narrator through a musical with no real story was Ryan Allen-Rose as Munkustrap. The part was well done and set the tone for the evening.
Paul Mitchell as Rum Tum Tugger gave a first-class performance throughout not least during Magical Mister Mistoffelees and his title number The Rum Tum Tugger.
A favourite character must be dear Old Deuteronomy who makes his first slow entrance through the auditorium. Matt Bridgewater made for an imposing cat due to height in this role!
Act two was the opportunity for impressive performances from John Reeves as Gus (short for Asparagus) the theatrical cat who once understudied Dick Whittington's cat, Jeremy Dobbins as Skimbleshanks, the railway cat and William Beldham as Growltiger. Liz Bird as Jellylorum was impressive throughout. There were great vocals from Sophie Hill as Demeter and Kelly Forrester as Bombalurina in Macavity, the Mystery Cat.
The iconic song from the show is perhaps Memory. We must wait almost to the very end of act one  to hear some of this but worth waiting for when sung by Laura Woodall as Grizabella.
CATS is a dance show with music throughout with no actual dialogue as it is all set to music. The company dance numbers were well set and broken down into groups of people rather than the whole ensemble having large amounts of intensive dance routines.  This ensured the whole company were involved and reduced the need to have everyone on stage at the same time as these could have resulted in the stage looking too busy. Reference for dance needs to be credited to Jacob Finch as Mr Mistoffelees who shone along with a routine carried out by Caitlin Moonan as Rumpleteazer and David Eagleton as Mungojerrie.
The set was simple, it needed to be with a large cast, but effective and gave raised areas for cats to watch proceedings or perform further up stage but still within good view of the audience.
The band under the leadership of Joe George consisted of ten musicians. As normal with Joe in command the level of the sound from the pit was well controlled at no time overpowering the cast while ensuring the well-known score was heard.
This was a brave choice for many reasons not least the amount of dance within the show as well as the need to transport the audience to an ally of cats. It was however a show suitable to celebrate the sixtieth anniversary of Redditch Operatic Society and I am sure it is one which will stick in people's memory.
Redditch Operatic Society have over recent years brought a range of recently released and or challenging shows to the stage. Next year is no exception to this with the recently released on to the amateur circuit – Shrek The Musical. Most certainly looking forward to seeing it.
Well done to all involved in the production it most certainly deserved the full houses it achieved.
Andy Brown, NODA Representative, Worcestershire East
Some Audience Comments
Congratulations all-round on the excellent production of 'Cats' by ROS. We had a thoroughly enjoyable evening and can appreciate the hard work put in by everyone involved, who also appeared to be enjoying taking part. There are certainly plenty of talented members in the Society – long may it be so.
Joan and John Chandler
What a wonderful evening Alan and I enjoyed last Tuesday. I am so sorry that it has taken me so long to contact you. The performance of Cats was incredible! The costumes and make-up were amazing themselves and the singing, acting and general performing were all a real joy to see. I recognised the two of you [Pearl and Bob] very early on in the performance and thought that you both were so very good in your parts. I look forward to seeing you soon and to congratulating you properly.the show on Friday, you were all fantastic – loved the show.
Jennie Jarmy
Very high standard of performance. brilliant all round. loved Cats this year and loved White Christmas the year before. Very very talented group.
Marion Astill
What an amazing show Cats was tonight- costumes were fantastic and singing and dancing was fabulous- well done to you all.
Liz Farquarson
We loved it at the matinee. A wonderful show. Just couldn't recognise many due to the fantastic makeup, but did recognise Jacob who was so amazing!
Elizabeth Borresen
PraCATtically Purrfect Purrformance. Wow! Just got home from seeing the matinee, and felt I had to add my comment and congratulate you all before your last performance tonight. Heather and I thoroughly enjoyed every single bit of it. It was great to see the old faces that we knew from 20 years back, when we were in shows, and the highly talented new faces (to us) and voices that together have delivered a truly outstanding show to a more than professional standard. Break a leg for this evening and remember,
Dogs aren't CATs!
David Chaddock
Our View
2019 marked the sixtieth anniversary of the reformation of ROS (in 1959), so in our very special year we wanted to present an equally special show. We were delighted, therefore, to have the opportunity to perform the town's premiere production of Andrew Lloyd Webber's CATS – one of musical theatre's most famous and ground-breaking shows.
This is a show that required planning and hard work almost like no other. From the staging (for which we commissioned additional platforms and steps at the front of the stage, so that the performers could get up and down from audience level quickly and gracefully), to the intricate costumes (which wouldn't have been possible without an incredible amount of hard work from our Costume Mistress, Jean), to the elaborate make-up (developed over a series of workshops by our team of face painting artists, Natalija, Sophie, Beth and Clare, who were tasked with coming up with a different look for fifty performers – none of which were allowed to look like the same characters from any professional production), to the exciting choreography from Paula Lacey – everything in this show was new and bespoke, and it was a huge undertaking for all of us.
But what a reward for all that effort! As we hoped all along, CATS sold incredibly well, and we had sell-out audiences for four of our six performances. Only a few empty seats on the Tuesday and Wednesday stopped us from a complete sell-out.
And the feedback from our audiences was incredible, with many commenting on the brilliant costumes and make-up, as well as the performances from everybody on stage – principals and company alike. And the word that we heard time and time again was 'professional'.
We appointed a new Director for this show – James Baldwin – whose calm manner and sense of humour endeared him quickly to the company. This, combined with a lot of hard work and planning, resulted in a production of which he can be justifiably proud. We were so impressed with James that we had no hesitation in offering him the directorship of 2020's production of Shrek: the Musical.
As many people have said – this production of CATS really will live on in the 'memory', not least because we were delighted when it went on to win NODA West Midlands' Best Musical award in our district.
Synopsis of the Show
Songs
Jellicle Songs for Jellicle Cats
The Naming of Cats
Old Gumbie Cat
The Rum Tum Tugger
Bustopher Jones
Mungojerrie and Rumpleteazer
Old Deuteronomy
The Battle of the Pekes and the Pollicles
Song of the Jellicles and the Jellicle Ball
Grizabella, the Glamour Cat
Moments of Happiness
Gus, the Theatre Cat
The Ballad of Billy M'Caw
Growltiger's Last Stand
Skimbleshanks, the Railway Cat
Macavity, the Mystery Cat
Magical Mister Mistoffelees
Memory
Journey to the Heaviside Layer
The Ad-dressing of Cats
The Story
Somewhere, in the ruins of an old derelict theatre, a tribe of cats come together, as they do once a year, to decide who amongst them will ascend to the Heaviside Layer and come back to a new life…
Credits
Music by Andrew Lloyd Webber
Based on 'Old Possum's Book of Practical Cats' by T S Eliot
Orchestrations by David Cullen and Andrew Lloyd Webber
Original production by Cameron Mackintosh Ltd and The Really Useful Group Ltd
'Prologue – Jellicle Songs for Jellicle Cats' additional material written by Trevor Nunn and Richard Stilgoe
'Memory' additional material written by Trevor Nunn
An amateur production by arrangement with The Musical Company Ltd