Jesus Christ Superstar
Tue 18 to Sat 22 November 2014
Palace Theatre, Redditch
Director – Tony Jay
Musical Director – Joe George
Choreographer – Pauline Elliker
Production Assistant – Jean Chalk
Accompanist and MD Assistant – Pauline Sherlock
Winner of NODA West Midlands Region 12 Best Musical Award
Winner of NODA West Midlands Best Programme Award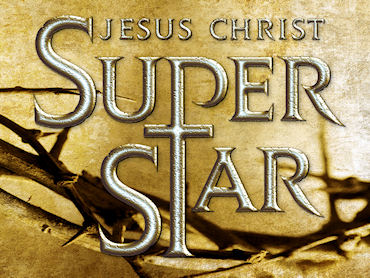 Cast List
| Character | Performed by |
| --- | --- |
| Jesus | David Steele |
| Judas | Laurence Sutton |
| Mary Magdalene | Lisa Lilwall |
| Simon Zealotes | Mark Williams |
| Peter | Paul Mitchell |
| Annas | John Reeves |
| Caiaphas | Matt Turner |
| Priest | Tony Lacey |
| Priest | Ryan Allen |
| Priest | Sam Smith |
| Pontius Pilate | Tim Eagleton |
| Leper 1 | Roz Chalk |
| Leper 2 | Dylan Faulkner |
| Leper 3 | Vicky Khawaja |
| Leper 4 | David Edmonds |
| Mob Soloist 1 | Danielle Hurley |
| Mob Soloist 2 | Rosie Kemp |
| Mob Soloist 3 | Steve Sidaway |
| Mob Soloist 4 | Mark Wright |
| Peter's Accuser | Penny Hoy |
| Herod | Tony Jay |
Reviews
Amateur theatre at its brilliant best
Tony Jay, ROS Chairman, openly admits to being 'mildly obsessed' with this Andrew Lloyd Webber/Tim Rice classic and was relishing the prospect of directing the show. Inevitably the pre-show hype and publicity created eager expectation. At any level such expectation was exceeded 10 fold and a capacity audience had the opportunity to experience a spectacular of the highest quality.
The story of course is a familiar one across the world and to be entertaining has to contain something special. This was achieved with innovation, inspiration and co-ordination which deserve great admiration. As does the highly effective musical delivery of an exciting and challenging score, from an accomplished orchestra and talented on stage performers.
Dialogue as the lyricist intended is almost non-existent and the greatest story ever told is performed in music, movement and stagecraft. Stagecraft from 71 performers, for whom it is not possible to give an individual mention. Each one though with their contribution helped make this glorious spectacle.
In the role of 'Jesus' David Steele was outstanding. His portrayal of the central character was vocally powerful and true with a delivery of great emotion and spine chilling presence. Leading the company in 'What's the Buzz', and 'Everything's Alright' and individually with performances such as 'Gethsemane' that were spellbinding.
As 'Judas' Laurence Sutton, strong and convincing delivered vocal excellence with the right level of sensitivity, none more so that in his betraying role in the Last Supper in Act 2, which as a scene was one of many stage setting masterpieces. Another being the appearance of a group of lepers dressed in tattered shrouds with 'Jesus' in glowing white completely visible in their midst.
Mark Williams in the role of 'Simon', gave a super vocal performance as did Paul Mitchell as 'Peter'. In their roles as 'Priests' Ryan Allen, Tony Lacey and Sam Smith were also excellent.
The rich tones from Matt Turner as 'Caiaphas' had a depth and range to his voice that resounded around the auditorium. He was ably supported by John Reeves as 'Annas'. Tim Eagleton gave an accomplished performance as 'Pontius Pilate' and Tony Jay in the role of 'Herod' brought a special touch of comedic camp brilliance.
Inevitably this for the most part was a male character line up. In the role of 'Mary' however Lisa Lilwall gave an amazing performance in character and vocally with an outstanding sensitivity every time she was on stage and conveyed real emotion in 'I Don't Know How to Love Him'.
Throughout the whole production the supportive ensemble of Roman Soldiers, Angels and Herod's Bestials along with the whole company stayed in character all creating the right atmosphere with their own important contribution to this spectacle. Costumes had the right amount of dowdiness, majesty, colour and quality to match every mood and emotion.
On stage a magnificent set and range of props provided the perfect setting culminating in the crucifixion scene with an enormous cross brought into position creating a poignancy and time of emotive brilliance from David Steel.
This was Amateur Theatre at its brilliant best reflecting the huge commitment, time and enormous wealth of talent that left the audience feeling they had just experienced a wonderful evening in West End Theatre land.
Ian Cox, NODA Representative, Worcestershire East
Superstars shine brightly at Redditch Palace Theatre
From the 18th to the 22nd of November at the Palace Theatre in Redditch, the Redditch Operatic Society, which has been going since its reformation in 1959, stage a production of Jesus Christ Superstar, wowing audiences night after night.
Written in 1970 by Andrew Lloyd-Webber and Tim Rice, it tells the story of the last week of Jesus' life, loosely based on the Gospel accounts beginning with the preparation for the arrival of Jesus and his disciples in Jerusalem and ending with the crucifixion.
Focusing largely on the interactions between Jesus and Judas, here depicted as a man disillusioned by the direction Jesus has taken his disciples and the one who would eventually betray him with a kiss, a number of the standout songs from the musical stem from either or both characters.
With leading men David Steele as Jesus, and Laurence Sutton as Judas, the show could not have been in better hands. David's soulful rendition of 'Gethsemane' moved many in the audience to their feet as well as tears, and Laurence's powerful performances of opening number 'Heaven on their minds' and title song 'Superstar', Redditch Operatic Society really raised the bar once again.
Both men showed why they were so perfectly suited for their roles, with Laurence bringing a likeability to the 'bad guy', an impressive feat considering who you should really be rooting for!
In her debut performance with ROS, Lisa Lilwall ably took the lead female role of Mary, shining during 'I don't know how to love him'. The disciples, led admirably by Paul Mitchell as Peter and Mark Williams as Simon, were a pleasure to listen to, with Pontius Pilate (Tim Eagleton), Caiaphas (Matt Turner) and Annas (John Reeves), providing some lighter 'bad guy' moments, with backing from Tony Lacey, Ryan Allen and Sam Smith as the priests.
Director and Producer Tony Jay put on an absolutely brilliant performance as Herod, giving the show that needed light relief, considering the tone of the rest of the script. The set design and production, including the cross itself was on point, and the band performances under Joe George directing were beautiful.
Without a decent cast in the backdrop, any production would fall flat on its face. Thankfully, ROS are blessed with a multitude of strong, impressive singers to choose their leads from, and the members who were left produced a glorious chorus that filled the theatre and really filled out the production.
With some stellar performances from the younger and newer members of ROS as well as the older cast members, it's evident that for the foreseeable future, the society is going to be in the best possible hands.
Next year, Redditch Operatic Society are going to be putting on the classic feel-good musical Calamity Jane at the Palace Theatre, and based on the performances in Jesus Christ Superstar, it will be one you don't want to miss.
Daniel Riley, The Phoenix, Birmingham
Jesus Christ Superstar – Redditch Operatic Society
Moving, colourful, dramatic, disturbing, uncomfortable even, reverent, irreverent, emotional, funny – are all words that could be used to describe Redditch Operatic Society's excellent production of this Tim Rice and Andrew Lloyd-Webber masterpiece.
The show is a 1970s rock opera, and is basically an account of the last week in the life of Jesus Christ, beginning with the arrival of Jesus and his disciples in Jerusalem and ending with the crucifixion, all set to modern music, and as such must have been out of the comfort zone for many in the society.
But ROS to a man (and woman) rose to the challenge magnificently.
The opera offers a fascinating insight into the political and interpersonal struggles between the extraordinary Jesus and those in the highest authority, and this aspect came across brilliantly.
Director and producer Tony Jay is quoted as saying that Jesus Christ Superstar is one of the greatest pieces of musical theatre ever created, and he certainly did it immense justice – it was slick, yet uncompromisingly daring and different, from the complex staging itself to his own hilarious portrayal of Herod's Song. It certainly added a lighter moment to the otherwise rather depressing scenario (watch out for that bread roll!).
The experience of David Steele shone through as Jesus, giving him plenty of opportunity to show off his mighty falsetto voice and emotional range, while his close companion Mary, played by newcomer Lisa Lilwall, was most endearing and suitably respectful. Those, as I was, awaiting the tear-jerking I Don't Know How To Love Him, a highlight of the show, will not have been disappointed.
Let's not forget Laurence Sutton as the confused and unfortunate Judas. He is also a new member of ROS and it's good to see risks being taken in casting – and paying off handsomely – with the younger members. He had a voice that filled the auditorium loud and clear.
One more mention. Tim Eagleton threw himself into the role of the unfortunate, in my mind, Pontius Pilate, who found himself dragged along with the will of the baying crowd, and he portrayed this with precision.
We all know how the story ends, but mine can't have been the only heart in the mouth as Jesus was lifted onto a rather highly mounted, but substantial, cross of wood and the opera came to its inevitable end – of course the resurrection isn't included and Jesus was left hanging.
It would not be possible in a review like this to mention everybody involved, especially with such a large cast, but there wasn't a weak link in the chain for what was a production very much worthy of a larger stage.
Andrew Powell, ex-Editor of The Standard
Jesus Christ cast were all superstars
Given this version of Jesus Christ Superstar was brought to the Palace Theatre stage by an operatic society, audiences would expect first-rate singing.
But the performances given by ROS, both individually and as an ensemble, were truly spectacular and made for a particularly enjoyable night.
Everyone knows how the story is going to end and most will be aware of the Andrew Lloyd Webber/Tim Rice production so the challenge is to make a mark by providing stand-out performances. In this way, ROS certainly did not disappoint.
Leading man David Steele sent shivers up the spine with his powerful and emotive performance at more than one point during the night, with his voice more than proving why he was chosen to take the role of Jesus.
However, this was not just a one-man show and his counterpart Laurence Sutton as Judas was captivating every time he set foot on the stage. It is not often you root for the 'bad guy' in the show but Laurence brought a softness to the role which enabled the crowd to understand his reasonings for betraying Jesus.
Together the 12 disciples were a complete pleasure to listen to and both Paul Mitchell as Peter and Mark Williams as Simon shone in the roles as Jesus' right-hand man. They played their roles well, providing the chance for the story to be told by creating a dialogue with Jesus and Judas – with Lisa Lilwall's Mary added into the mix it was absolutely superb.
However, it was not all weeping over the demise of Christ, there were plenty of light moments in the show too – mainly when the stage was occupied by Tim Eagleton (Pontius Pilate), Matt Turner (Caiaphas) and John Reeves (Annas) backed by Sam Smith, Ryan Allen and Tony Lacey as the priests.
The biggest laugh of the night definitely went to Tony Jay whose portrayal of Herod was just excellent and the perfect antidote to the heavy subject of the script.
Credit must also go to the superb singers and dancers who were ever-present in the backdrop. There is little worse than an amazing principal cast being let down by an out of time or out of tune cast. To have such strong voices in the chorus line is a real credit to ROS and proves it must have been a difficult choice picking lead characters from the wealth of talent on offer.
Lastly, a mention for the most important prop in the show – the cross. If it had been designed badly it could have really let down the production but as it was, it was perfectly put together for the job at hand and provided a powerful way to end the show. The set itself was very simple but it needed to be so the cast could get on with what they do best – singing their hearts out.
Harriet Ernstsons, Redditch Standard
Some Audience Comments
Just back from a most amazing show. Congratulations to everyone. A very professional show. Hope local press give you the praise you all deserve. Thank you for a wonderful evening.
Patricia Smith, va email
What a fantastic production last night! Thoroughly enjoyed – many thanks.
Val Stembridge, via email
I saw your amazing production at the Palace Theatre last night and thought it was fabulous. You are all so professional and the props department also warrant congratulations. (How they got Jesus on that cross was ingenious). I remember seeing Tony Jay playing Sweeney Todd at Bridley Moor school. My daughter, Sharon, played Mrs Lovett. Please convey my praises to the society for such a talented show.
Carol Lynn, via email
Well – the show was Amazing (Jesus Christ Superstar) congratulations to ALL involved in the production. It felt like a West End Show. Incredible on such a small stage. The final scene brought a tear to my wife's eyes (literally). Special thanks to Ann who does an excellent job selling the tickets. Can't wait for Calam!
John & Carol Garbett, via Guestbook
Just seen the Jesus Chris Superstar, the society lives up to it's well earned reputation as being the premier society in the area. Congratulations and regards to all.
Julian Wilson, via Guestbook
Had to let you know how much we all enjoyed Jesus Christ Superstar. It was quite simply stunning, an amazing production, congratulations to everyone in the society! Singing, staging everything was superb, West End standard.
Browett Family, via Guestbook
Many Congratulations on a Superb Show… Jesus Christ Superstar. The whole cast, the set and the music were all faultless. A thoroughly professional performance which would not have been out of place on the London stage. Well done to everyone concerned. Roll on your next show.
Alan Adamson, via Guestbook
Our View
We had waited almost a decade before we could get the performing rights to Jesus Christ Superstar, but it was worth every day's wait.
Tony Jay, our Chairman, chose to direct the production, having spent a great amount of time previously familiarising himself with the show, and seeing many other productions over the years. He added lots of his own concepts and ideas to present a dark, daring and sometimes startling vision of the show. Joe George joined us again as Musical Director, and brought his usual enthusiasm and talent to bear, having to work hard with the company throughout the months of rehearsal as well as pulling together a superb band for the performances.
Right from the start, after a slick introduction night and an amazing round of auditions (which included no less than sixteen applicants for the role of 'Mary'), we felt this was going to be a very special production. The cast was truly superb, each of them producing West End quality performances.
This was the biggest adult company we have ever had for a show, with 71 performers on stage – although not at the same time! Through a complicated set of logistics (and even a spreadsheet) the Director ensured that the small stage was never overly crowded.
The set, provided by Scenic Projects, was excellent, even if it did have to be 'cut down' somewhat to fit onto the Palace Stage. It allowed the action to be set on different levels, and utilised a number of different entrances and exits to ensure the action flowed slickly from one number to the next with no pauses between. The set was a beauty to light, as well, and made full use of the Palace Theatre's lighting setup.
Usually, we hire all our costumes from theatrical costumiers. This year, however, we were given the opportunity to buy the complete set from Andrew Wilson-Jenner, the proprietor of Carousel Costumes, as he retired from the business. This allowed us plenty of time in advance to 'kit out' the whole company, many of whom had a number of different costumes, including villagers/followers, lepers, pharisees, Roman soldiers, and even Herod's 'bestials'. It also meant that we could take some great publicity photos in the months beforehand.
We gained an audience of 90% during the week, the feedback from whom was universally glowing, with many people saying this was truly West End quality. We were thrilled to receive nominations for both Best Musical and Best Programme from our NODA representative; and were over-the-moon when we won in both categories at the presentation evening in April 2015.
Jesus Christ Superstar was a superb follow-up to 2013's Whistle Down the Wind, and we will always be grateful for the opportunity to bring both of these Andrew Lloyd-Webber shows to the Palace Theatre for the first time; and proud of ourselves for doing so in such incredible style.
Synopsis of the Show
Songs
Heaven On Their Minds
What's The Buzz
Strange Thing, Mystifying
Everything's Alright
This Jesus Must Die
Hosanna
Simon Zealotes (Christ You Know I Love You)
Poor Jerusalem
Pilate's Dream
The Temple
I Don't Know How To Love Him
Damned For All Time/Blood Money
The Last Supper
Gethsemane
The Arrest
Peter's Denial
Pilate And Christ
Herod's Song
Could We Start Again Please
Judas's Death
Trial By Pilate/39 Lashes
Superstar
Crucifixion
John 19:41
The Background
The show was written in 1970 when Andrew Lloyd-Webber was just 22 years old and Tim Rice was 26. It was their third collaboration together. The first was a show called The Likes Of Us, based on the story of Dr Barnardo. It was written in 1965 but not publically performed until 2005. Their second work was a twenty-minute version of Joseph And The Amazing Technicolor Dreamcoat which was written in 1968.
Jesus Christ Superstar came next. It started life in 1970 as a rock opera concept album, and was very successful, with the title song Superstar, sung by Murray Head, and I Don't Know How To Love Him, sung by Yvonne Elliman, both becoming big hits worldwide.
The show was soon turned into a full musical production, which first opened on Broadway in 1971. This lasted for a year and a half but critics were not impressed, and neither was Andrew Lloyd-Webber who severely criticised the production. A reworked and restaged version then opened in the West End in 1972, starring Paul Nicholas in the title role. This was hugely successful. It ran for eight years, becoming the longest running West End musical ever at the time. It is still in the top-20 longest running West End shows.
Many productions have since been staged all over the world over the past 40 years or so. There was a theatrically released film version in 1973. In 1992, the stars of that film – Ted Neely and Carl Anderson – began a 20th Anniversary production that was meant to tour USA for three months. It ended up running for five years due to its box office popularity. Another version was filmed in 2000 – this being a theatrically staged production starring Glen Carter as Jesus and featuring Rik Mayall as Herod.
The show was first released for amateur societies in the UK about a decade ago. It was available for only a short period, and then was withdrawn. A few years later, it became available again, before being withdrawn again.
A couple of years ago Andrew Lloyd Webber used the ITV show Superstar to search for somebody to play Jesus in a planned UK arena tour. The role was won by Ben Forster, and the tour starred Tim Minchin as Judas, Mel Chisholm as Mary and Chris Moyles as Herod. This was also filmed, and is available on DVD.
The tour finished last year, finally allowing The Really Useful Group to release it to amateur societies again. Redditch Operatic Society were already on a 'waiting list' and we signed up to perform it straight away… we were not going to miss our chance again!
Credits
Music by Andrew Lloyd Webber
Lyrics by Tim Rice
An amateur production by arrangement with The Really Useful Group Ltd.