The King and I
Tue 15 to Sat 19 November 2011
Palace Theatre, Redditch
Director and Choreographer – Andrew Wilson-Jenner
Musical Director – Norma Kift
Society Accompanist – Pauline Sherlock
Nominated for NODA West Midlands Region 12 Best Musical Award
Nominated for NODA West Midlands Best Programme Award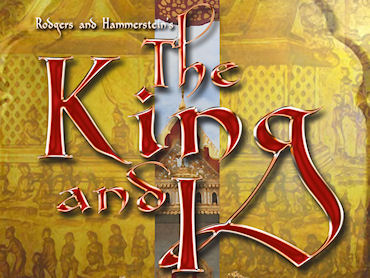 Cast List
| Character | Performed by |
| --- | --- |
| Captain Orton | John Lovell |
| Louis (Tue, Thu, Sat) | Rafe Walker |
| Louis (Wed, Fri, Sat Mat) | Cavan O'Malley-Lavercombe |
| Anna | Liz Bird |
| Interpreter/Phra Alack | Sam Smith |
| The Kralahome | Michael Hawkins |
| The King | Tim Eagleton |
| Lun Tha | Dan Wainman |
| Tuptim | Vicky Khawaja |
| Lady Thiang | Carole Massey |
| Crown Prince Chululongkorn (Tue, Thu, Sat) | William Boyd-Isherwood |
| Crown Prince Chululongkorn (Wed, Fri, Sat Mat) | James Wiseman |
| Sir Edward Ramsay | Steve Sidaway |
| Eliza | Natalie Cropps |
| King Simon of Legree | Paula Lacey |
| George/The Angel | Sue Tudberry |
| Uncle Thomas | Roz Chalk |
| Little Eva | Abigail Entwistle |
| Little Topsy | Gill Rowland |
Reviews
Delighted by royally good show
The performance of 'The King and I' by the Redditch Operatic Society at the Palace Theatre was a sheer delight. From start to finish the audience was thoroughly captivated by a cast full of enthusiasm and professionalism.
The quality of the singing was of a particular high standard and the vibrant, colourful costumes were a pleasure to the eye.
Tim Eagleton, who played the King and Elizabeth Bird, who played Anna the schoolteacher, had a great chemistry throughout the show. They were complemented by a huge cast of wives, servants, slaves, guards, etc.
The 'note perfect' orchestra provided quality accompaniment to the singers, who exquisitely delivered songs such as 'I Whistle a Happy Tune' and 'Getting to Know You'.
The audience were very appreciative of the super performances by the show's 'children'. The production and choreography were also of a very high standard.
All in all, a night to remember and a production Redditch Operatic Society should be very proud of.
Redditch Standard, Friday 2 December 2011
A Lavish Production
One of Rodgers and Hammerstein's best-loved musicals 'The King and I' brought the Royal Court of Siam in some style to Redditch, for the first time in the society's history of over 50 years with this lavish production.
The tale of love and cultural difference of an English woman employed to teach at the request of the King of Siam features songs that endure including The March of the Siamese Children, Shall We Dance, I Whistle a Happy Tune, Hello Young Lovers, We Kiss in the Shadow, Something Wonderful and the unforgettable Getting to Know You.
Elizabeth Bird – Anna Leonowens and Tim Eagleton – The King, both performed in masterly fashion as the central characters. The younger members of this extensive cast formed two teams. On Friday it was Team West. Cavan O'Malley-Lavercome – Louis and in his first performance at the Palace Theatre, James Wiseman – Crown Prince Chululongkorn played their principle roles with professional accomplishment, ably supported by the other 15 children on stage, from the 37 hugely talented youngsters in this production.
A founder member of post war reformation of ROS in 1959, Michael Hawkins in this his likely final appearance can look forward to retirement with the satisfaction of delivering strength and superb diction characterising The Kralahome brilliantly.
Carole Massey – Lady Thiang, Vicky Khawaja – Tuptim, Dan Wainman – Lun Tha, Sam Smith – Interpreter/Phra Alack and John Lovell – as a Scottish Captain all gave assured performances in their respective roles as did Steve Sidaway in a suave confident manner as Anna's 'old Flame' Sir Edward Ramsay.
At times the stage appeared a little crowded for a well sung chorus of Royal Wives, Sailors, Slaves and Guards all of whom in every magical scene adorned striking costumes, vibrant inspired colourful head dress and impressive true characterisation wear, designed to wow the audience at every scene change. None more so that the always lengthy Uncle Thomas ballet where dazzling apparel looked absolutely splendent.
It was a pleasure to enjoy a spectacular and thoroughly entertaining evening. Under the direction of Andrew Wilson- Jenner and Musical Director Norma Kift, the society can take pride in doing full justice to this Rogers and Hammerstein classic, with its capacity audience leaving the theatre Whistling A Happy Tune.
Ian Cox, NODA Representative, Worcestershire East
Our View
Once again we were thrilled that Andrew Wilson-Jenner helmed this production, as both director and choreographer. As costumier, he also provided a dazzling series of glorious costumes and props that thoroughly enhanced the production. It was, indeed, a lavish spectacle.
One of the core features of The King And I is the chorus of children – which were split into two teams, making a total of 37 children appearing in the production. Due to ever-increasing licensing restrictions, it is not easy to have children at all on stage these days, but thanks to Roz Chalk (who managed the interaction with the children and their parents) and helpers Ryan Allen, Rachel Finch and Lyndsay Whitehouse plus a team of chaperones, the task was extremely well handled. The children were great on stage, and many parents complimented us on how well they were organised and looked after.
As expected for such a popular show (especially one featuring so many children) the box office was wonderful. With a 97% fill, it was a worthy successor to 2010's blockbuster Beauty And The Beast. We were delighted with the response from the audition, both financially and critically.
We were further delighted when, in Spring 2012, we received nominations for Best Musical (in our Worcestershire East region) and Best Programme (for the whole West Midlands area). All fitting tributes to a wonderful show, which we receive most gratefully.
Synopsis of the Show
Songs
I Whistle A Happy Tune
My Lord And Master
Hello, Young Lovers
The March Of The Siamese Children
A Puzzlement
The Royal Bangkok Academy
Getting To Know You
We Kiss In A Shadow
Shall I Tell You What I Think Of You
Something Wonderful
Western People Funny
I Have Dreamed
The Small House Of Uncle Thomas
Song Of The King
Shall We Dance?
The Story
The place is Bangkok, Siam, the time is the early 1860s. Anna Leonowens arrives by boat from England with her young son Louis, to commence her employment as schoolteacher and governess to the Royal Children of the King of Siam.
As she is introduced to the King and various children in his court, Anna soon learns much of the King's influence on his subjects, and of the many differences between the culture of Siam and her own. But as a widow with a dependent child, Anna needs to work, and so despite the many challenges presented, she perseveres. This is helped in no small way by the relationship she quickly develops with the Royal Children, whom she finds enchanting and who love her dearly. Anna's understanding of the King is also encouraged by Lady Thiang, the King's Head Wife.
However, Anna's residence within the Royal household is not without its sadness. She befriends Tuptim, who has been presented to the King as a gift from Burma. Despite this, Tuptim is in love with Lun Tha. Anna tries to help the young lovers through their plight, but with unfortunate consequences.
When news arrives from Britain that the King is considered a barbarian, he is anxious to refute these reports and seeks Anna's advice. From then on, their relationship develops with such strength and depth in a way that very few, least of all Anna and the King, could foresee.
Credits
Music by Richard Rodgers.
Book and Lyrics by Oscar Hammerstein II
Based on the novel 'Anna and the King of Siam' by Margaret Landon.
An amateur production by arrangement with Josef Weinberger Ltd on behalf of R&H Theatricals of New York.