Summer Holiday
Tue 13 to Sat 17 November 2012
Palace Theatre, Redditch
Director and Choreographer – Pauline Elliker
Musical Director – Norma Kift
Director's Assistant – Jean Chalk
Executive Producer – Tony Jay
Society Accompanist – Pauline Sherlock
Nominated for NODA West Midlands Region 12 Best Musical Award
Winner of NODA West Midlands Best Programme Award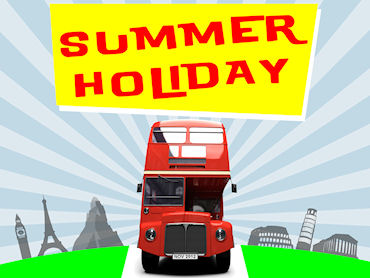 Cast List
| Character | Performed by |
| --- | --- |
| Edwin | Michael Hastings |
| Cyril | Sam Smith |
| Steve | Alan Hastings |
| Don | James Gough |
| Angie | Rosalyn Chalk |
| Mimsie | Natalie Cropps |
| Alma | Natalie Emeny |
| Barbara | Helen Hastings |
| Stella | Elizabeth Bird |
| Jerry | Jonathan Busk |
| Wilf | Alan McCoy |
| Waitress | Rachael Finch |
| Backing Singers | Sarah-Jane Busk, Paula Lacey, Carole Massey |
| Swiss Police | Matthew Moss, Joy Sidaway |
| Border Guards | Roger Savidge, Wendy Stroud, David Eagleton |
| Bride | Jennifer Talbot |
| Groom | Ryan Allen |
| Customs Officer | John Lovell |
| Wrightmore | Steve Sidaway |
Reviews
Applause for the Bus!
Vary rarely in any production does a prop, or piece of scenery attract huge applause every time it appears. In a technically innovative set at varying points through the show the iconic Red Double-decker London Bus was brilliantly featured chugging up and down the background scenery hills. None of this however detracted in any way the overall impact of this show which in its original film version released in 1963 was an instant hit becoming the second most popular movie at the box office that year.
Don – James Gough, Cyril – Sam Smith, Steve – Alan Hastings, and Edwin – Michael Hastings never stopped working along with the Do-Re-Me trio Mimsie – Natalie Cropps, Alma – Natalie Emeny and Angie – Rosalyn Chalk kept the show moving and delivered strong song and dance performances as did the runaway Barbara – Helen Hastings.
All were well supported by a most likeable cast singing and dancing their way through catchy memorable music in a plot which hardly matters, involving a group of young lads meeting the girls on their holiday route.
In a show stealing performance Stella – Elizabeth Bird first appearing from the auditorium along with Jerry – Jonathan Busk just added the little bit of extra special characterisation as the overbearing mother of runaway Barabara.
A well-structured stage set was enhanced by innovative special effect lighting and costumes of vibrancy and colour that reflected the mood and tone of score and script including scenes in the rain and in a shower. An at times slightly overcrowded stage did not though diminish the energy and enthusiasm from inspired choreography.
When you combine musical numbers from Cliff Richard and the Shadows, including 'Dancing Shoes', 'Living Doll', 'The Next Time', 'On the Beach' and the title song 'Summer Holiday' this is a story of love and laughter which made for an excellent piece of entertainment clearly enjoyed by the cast and audience alike.
Ian Cox, NODA Representative, Worcestershire East
Our View
We knew the choreography was going to be key for any production of Summer Holiday, and so were were delighted when Pauline Elliker returned to direct and choreograph this show. We previously worked with Pauline on Hot Mikado in 2009, and knew that all the dance routines that this show requires couldn't be in better hands.
Summer Holiday is a busy show, with non-stop action for the leading 'boys' and 'girls'. Our production also benefitted from a chorus that was well-used wherever possible, in an episodic story that starts off in a dingy London cafe and ends up on the beach in Greece!
The music is the key to this show. The story is pretty simple, as is the dialogue. But with barely room to draw breath between them, the show contains song after famous song – all of them foot tappers!
Our production was hugely enhanced by an excellent set hired from Albemarle. Working, as ever, within the limited confines of the Palace Theatre stage, the set included a grand double decker bus that broke up into sections, depending on which configuration was needed. And at the back of the stage, the small bus(es) that trundled across the 'mountains' brought huge applause and laughter every time they were seen.
The atmosphere in the audience was superb for every performance, not least of which on the Saturday evening when it seemed that leading man James Gough (a fire fighter, based in Redditch) had brought the whole local fire fighting force to see him in action. The roars from the crowd throughout the evening made the whole theatre buzz with even more excitement than usual.
As expected, our audience numbers were down on the previous two years (these being the sell-out successes of Beauty and the Beast and The King And I). Nevertheless, we reached a respectable 63% fill, and managed to make a small profit on the production. Profit, however, is not our driving force – it is all about quality, and providing the best possible evening's entertainment. On hearing the consistently glowing reviews of audience members as they left the theatre, we were left with no doubt that this show went down a storm!
Some months after the curtain came down, we were thrilled and grateful to receive nominations for Best Musical (in our Worcestershire East region) and Best Programme (for the whole West Midlands area) for the second year running.
Synopsis of the Show
Songs
Is It Still Raining?
Seven Days To A Holiday
In The Country
Summer Holiday
Gee Whizz, It's You
Let Us Take You For A Ride
Constantly
I Could Easily Fall In Love With You
Time Drags By
Bachelor Boy
Dancing Shoes
We Say Yeah
Move It
A Swinging Affair
I've Got A Funny Feeling
Living Doll
Lei Vuole Ballare
Do You Wanna Dance
La La La Song
The Young Ones
The Next Time
Big News
I'm The Lonely One
On The Beach
The Story
The show opens in a dingy London café. Three lads – Cyril, Edwin and Steve – are thinking about their holidays when Don arrives and tells them he has acquired a London bus that they can do up and drive down to the South of France.
Somewhere on the road in France, the lads meet three girls – Angie, Mimsie and Alma – who form a singing trio called Do-Re-Mi and who are on their way to a gig in Athens. Unfortunately, their car has broken down, so the lads decide to change plans and take the girls all the way to Athens.
In a TV Studio in France, a young American starlet called Barbara is performing, watched over by Stella, her over-bearing mother. After Stella criticises her performance, Barbara grabs some clothes and runs away from her mother and her business manager, Jerry.
After visiting a Paris nightclub the gang return to the bus and discover Barbara, dressed as a boy, as a stowaway. She says she is trying to find her family and, on hearing they are on their way to Athens, tells them she is going there, too. They agree that she can join them on their journey.
Later, Barbara reads a newspaper article reporting her 'kidnapping'. She rings her mother to tell her she just needed to get away for a few days. Stella is sure that something is wrong and, on hearing that Barbara is travelling around in a bus, plots with Jerry how to get her back.
Back on their journey, the bus is stopped by the Swiss Police as they have been travelling without a licence. They explain that they are a 'pop group' and during a wild dance that follows, Barbara's hat falls off revealing her long hair to the gang, who up until now believed she was a boy!
Whilst later driving through Italy, the bus screeches to a halt as the gang come across a sobbing bride and her young bridesmaids in the road. Our heroes try to find out what the problem is, but due to the language barrier they decide to cheer them up by singing. They find out that the bride needs to get to Amalfi, so the gang agree to take them there. Later, at the wedding reception, Stella and Jerry arrive in disguise, and Jerry steals the keys to the bus. This causes the gang to miss their intended ferry to Greece. However, they later manage to get on a ferry full of goats instead!
Once in Athens, Stella and Jerry catch up with Barbara. They have decided that they can get some good publicity out of the situation and insist that Barbara goes to a press conference they have arranged. Just before she is taken away, Don realises how much he has fallen for Barbara, and asks her to marry him.
At the press conference, Stella announces that her daughter was kidnapped by a gang of hoodlums, but Don appears to put his side of the story. He then receives a telegram from London Transport, congratulating them on getting all the way to Greece and informing him that the resulting publicity has secured them the funding needed to go into business… running double decker bus tours!
Credits
Based on the film Summer Holiday
Directed by Peter Yates
Screenplay by Ronald Cass and Peter Myers
By special arrangement with Studiocanal.
Stage adaptation by Michael Gyngell and Mark Haddigan
Orchestrations by Keith Strachan.
An amateur production by arrangement with Josef Weinberger Ltd.