Hot Mikado
Tue 17 to Sat 21 November 2009
Palace Theatre, Redditch
Director – Terry Wheddon
Musical Director – Norma Kift
Choreographer – Pauline Elliker
Society Accompanist – Pauline Sherlock
Winner of NODA West Midlands Best Programme Award
Nominated for NODA West Midlands Best Poster Award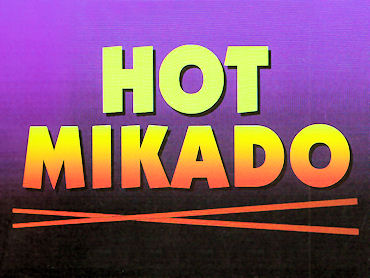 Cast List
| Character | Performed by |
| --- | --- |
| Ko-Ko | Mark Williams |
| Katisha | Liz Bird |
| Nanki-Poo | David Steele |
| Yum-Yum | Vicky Prosser |
| Pooh-Bah | Tony Jay |
| Pitti-Sing | Laura Poyner |
| Pish-Tush | Tony Lacey |
| Peep-Bo | Sue Tudberry |
| The Mikado | Nigel Buckley |
| Junior | Ryan Allen |
| Junior Too | Dan Wainman |
Reviews
Vivacious, inspired production
Never could I have imagined Liberace cum Graham Norton, Cruella De Ville, Stan Laurel, Elvis and The Blues Brothers on stage at the same time acting out a sort of Mikado – but the reality worked exceptionally well in this vivacious, inspired production from director Terry Wheddon.
The two questions on everyone's lips by the interval were 'are the leads professionals?' and 'is Ko-Ko really gay?' – the answer to both an astonishing no.
While the plot, character names and melodies may have come from Gilbert and Sullivan, this re-orchestration uses 1940s arrangements and harmonies and a wide variety of styles from jazz to blues, rock, swing and hot gospel. And with some new lyrics it was bang up to date and very funny as well as musically accomplished.
The voices of David Steele (Nanki-Poo), Liz Bird (Katisha/Cruella) with her incredible range, Laura Poyner (Pitti-Sing) – she didn't need a microphone – and Vicky Prosser (Yum-Yum) were exceptional while the majority of the humour came from Mark Williams (Ko-Ko/Liberace), an outstanding actor and good singer too.
Well supported by too many others to mention and with the chorus swelled by new, young blood, the energy was infectious and the choreography brilliant.
Highlights for me were the Madrigal and Tit Willow, plus the on-stage, excellent band under the skilful baton of Norma Kift. Some of the audience were there for a second time, it was that good. If you missed it, you really missed out.
Redditch Standard, Friday 26 November 2009
Gilbert and Sullivan would have been proud
A vibrant opening number set the standard for the whole performance. Normally a small-cast show, this one had forty-six principals and chorus but the production team overcame the challenge with imaginative choreography and grouping.
I loved the three little maids who looked great and had voices to match. Liz Bird played 'Katisha' with sexy relish, Mark Williams camp 'Ko-Ko', Tony Jay a scheming 'Pooh-Bah', David Steele lovelorn 'Nanki-Poo', Nigel Buckley a smooth 'Mikado' and Tony Lacey 'Pish-Tush' were all outstanding in their roles and the six piece band jazzed to great effect. Gilbert and Sullivan would have been proud.
Trevor Guest, NODA Representative, West Midland
Our View
At the end of May 2009 we kicked off rehearsals for Hot Mikado with two new faces on the production team. Both Terry Wheddon (our producer) and Pauline Elliker (our choreographer) came to us after successes with other societies, predominantly in the Solihull area.
We were lucky, once again, to have Norma Kift as Musical Director, and were thrilled to see the return of our accompanist Pauline Sherlock. Together with Paul Finch – hard working as ever as our Stage Manager – this team produced a first-class show for us.
Reports were overwhelmingly positive. The audience was enthused by the standard of the show, and the great talent on display. Hot Mikado became one of our definitive productions of recent years.
Every part of the show seemed to come together so well… the set was simple yet effective, the band was great, the company worked well together, and the principal line-up was incredibly strong.
But above the thing that really stood out was the superb choreography that just lit the stage and which was delivered with such enthusiasm by all the company, and in particular our superb 'gentlemen of Japan'. Huge credit to the talent and experience of Pauline Elliker who really put the icing on the cake of this great production.
The only slight downer on the production was the box-office figures. At just 62% this was probably our poorest audience, numbers-wise, in a long time. We still don't know if it was a sign of financial difficulties or just because the show didn't appeal to the masses. Still, those who did see the show had one heck of a treat!
Synopsis of the Show
Songs
We Are Gentlemen of Japan
A Wand'ring Minstrel, I
And The Drums Will Crash
Behold The Lord High Executioner
I've Got A Little List
Three Little Maids
This Is What I'll Never Do
I Am So Proud
Let The Throng Our Joy Advance
Katisha's Entrance
For He's Gonna Marry Yum-Yum
The Hour Of Gladness
Braid The Raven Hair
The Sun And I
Swing A Merry Madrigal
Here's A Howdy Do
The Mikado Song
Alone And Yet Alive
Tit Willow
Beauty In The Bellow
Background
Hot Mikado was first performed at Ford's Theatre (the one where Abraham Lincoln was shot!) in Washington DC from March to July 1986. It also had an early Chicago run and was subsequently revived several times before finally opening in the West End in 1995. It has enjoyed many additional productions in North America and the UK since then.
The score uses much of Sullivan's original music but is re-orchestrated using 1940s popular musical harmonies and arrangements and a wide range of styles including jazz, hot gospel, blues, rock, swing, and torch songs.
Many of the songs of Hot Mikado have the same name and melody as in The Mikado, but often have a twist. For example, the three little maids sing in Andrews Sisters' style and the song 'I Am So Proud' has the same melody for the verses, changing only towards the end, where it folds into a more jazzy round. Dance styles include tap-dancing, the jitterbug and other 1940s crazes.
Craig Revel Horwood, of Strictly Come Dancing fame, directed a successful production of Hot Mikado at the Watermill Theatre in 2006, featuring only 14 performers who had to act, sing, dance and play the instruments! His production was revived and toured this year to huge critical acclaim.
Credits
Book and lyrics adapted by David H Bell. Music adapted and arranged by Rob Bowman.
Based on 'The Mikado' by W S Gilbert and Arthur Sullivan.
Originally produced at Ford's Theatre, Washington DC. Frankie Hewitt, Producing Director.
An amateur production by arrangement with Josef Weinberger Ltd.