Calamity Jane
Tue 17 to Sat 21 November 2015
Palace Theatre, Redditch
Director – Jean Chalk
Director – Pauline Elliker
Musical Director – Tom Porter
Accompanist and MD Assistant – Pauline Sherlock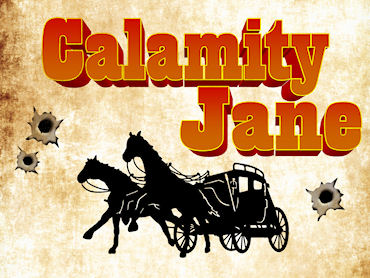 Cast List
| Character | Performed by |
| --- | --- |
| Calamity Jane | Lisa Lilwall |
| Wild Bill Hickock | Mark Williams |
| Katie Brown | Emma Hopcroft |
| Danny Gilmartin | Sam Smith |
| Adelaide Adams | Penny Hoy |
| Henry Miller | Tim Eagleton |
| Francis Fryer | Ryan Allen |
| Susan | Kelly Johnson |
| Rattlesnake | Matt Turner |
| Joe, the Barman | John Reeves |
| Doc | Bob Taylor |
| Colonel | John Lovell |
Reviews
Lively Show and Appealing Production
This lively show with its host of memorable and well-known musical numbers has achieved its enormous popularity through the quality of a superb Sammy Fain score rather than the storyline itself. Nearly every song or tune in the show having the advantage of being immediately recognised by the audience.
From the opening number in this appealing production Lisa Lilwall played the title role of 'Calamity' with energy and pace and with a fine voice. 'The Deadwood Stage' was a rousing full company number quickly followed by 'Careless with the Truth'. When required there was tomboy raucousness with 'Windy City' after she returned from Chicago, balanced with contrasting tone and emotion in her performances of 'Men' and the more passionate 'Secret Love', Dialogue and accent too were superb.
In the role of 'Wild Bill Hickock', Mark Williams was powerful and strong in character. Leading the men in the song 'Adelaide' and his performance of 'Higher than a Hawk' he demonstrated true vocal quality and 'I Can Do Without You' in the duet with 'Calam' both performed exceptionally well.
As the would-be superstar 'Katie Brown' Emma Hopcroft was comfortable in the part and played the role well in song and dance in 'Keep it Under Your Hat' and 'A Woman's Touch' along with Calamity utilised the cabin setting perfectly. 'Katie's' duet with 'Danny Gilmartin' brought some wonderful harmony in 'Love you Dearly' with 'Danny' being sung with a richness of tone by Sam Smith.
'It's Harry I'm Planning to Marry' was a well performed number by Penny Hoy as 'Adelaide' in one of the splendid dance routines by the well-disciplined dancers as were the Can Can girls in their excellently choreographed numbers both in stagecraft and movement.
Comedy and scenes of great humour were in evidence throughout, with a special highlight in an exceptional performance by Ryan Allen as 'Francis Fryer' .His rendition of 'Hive Full of Honey' was full of character and fun without any camp-ness whatsoever.
Whilst the show to a large extent revolves around 'Calamity' and other principals full credit must go the chorus who in the full company numbers did complete justice to the music. As did a very pleasing on the ear well balanced orchestra. Harmonies were a delight to enjoy. Notably 'Black Hills of Dakota' played in front of the curtains during one of a number carefully executed scene changes was enhanced further with soft and subtle lighting effects in purple and blue. Costumes too were of high quality vivid in colour with the right levels of authenticity.
Set and props including the Golden Garter bar scene appeared to give the stage greater depth and other scenes demonstrated innovative originality, just adding to the enjoyment for all of us in the audience.
Ian Cox, NODA Representative, Worcestershire East
Endearing and Enthusiastic
This is a most endearing story performed by an enthusiastic Redditch Operatic Society – and as good a first night performance that it would be possible to imagine.
Director Jean Chalk must have been delighted with her cast's presentation at the beginning of the run, giving the promise of an even more slick show as the week progressed. I am sure it must have been the case.
The original film musical is loosely based on the 'true' story of American frontierswoman and professional scout of the same name but aka Martha Jane Canary and known for her claim of being an acquaintance of Wild Bill Hickock. The stage musical originated as an adaptation of the 1953 movie musical from Warner Bros. which starred Doris Day.
Whip cracking away as Tom Boy Calamity for ROS was the very capable Lisa Lilwall, whose enthusiastic routine was most fitting for the job, and whose clear voice carried to the very rear of the auditorium. She certainly brought professionalism to the show.
Her (eventual) love partner was played by the slick Mark Williams, who played the part of rough diamond with a smooth edge, Wild Bill, with panache. The pairing saw the perfect casting for what was, on the face of it, an unlikely couple.
Young blood Ryan Allen as fresh-faced travelling actor and one-man stage show Francis Fryer (yes, Francis with an 'i') was an excellent stage presence with his accomplished singing and dance routines, while Kelly-Louise Johnson played his delightful partner Susan.
Emma Hopcroft's depiction of entertainment fraudster Katie Brown was thoroughly enjoyable, her singing voice clear and sharp, while her persistent love partner Danny Gilmartin was played by a rock solid Sam Smith.
Tim Eagleton's mighty experience shone through with his convincing depiction of unfortunate pub and dance hall owner Henry Miller.
I really did miss a flamboyant part ready made for ROS chairman Tony Jay this year, but the rest of the cast – and musicians – carried off a delightful show with confidence.
To be praised was the all-round effect of the sound system, as every word of every song was heard crystal clear to the top of the circle – the technology making a really positive enhancement.
This is a show blessed with plenty of catchy tunes as well as charming love songs, but with an engaging story to weave them together, and the cast of Redditch Operatic Society, with their energetic and enthusiastic show, ensured we will be singing the ditties for the next few days at least.
Andrew Powell, ex-Editor of The Standard
A Rootin', Tootin' Production
Redditch Operatic Society brought a piece of South Dakota to the heart of Redditch last night with their rootin', tootin' production of Calamity Jane.
A popular choice amongst theatre groups around the Midlands recently, it's always a musical that you can't help but hum and smile along to.
The stage was crammed full of enthusiastic individuals and first night nerves were banished quickly. Taking on the title role of the feisty Calamity was Lisa Lilwall, her passion for performing clearly shone through. She was matched exceedingly well with Mark Williams as Wild Bill Hickock, who's stage presence and rich tone was pleasing to the eyes and ear. The duet of 'Secret Love' was a particular stand-out moment.
A crystal clear vocal and all-round performance from Emma Hopcroft as Katie Brown was a highlight, every so often reminding me of Allyn Ann McLerie's portrayal of Katie Brown in the film, it was a delight.
Supporting was Sam Smith as Danny Gilmartin, a star turn from Ryan Allen as Francis Fryer (especially in a 'Hive Full of Honey') and Tim Eagleton as the ever-flustered Henry Miller. Eagleton delivered an endearing and enjoyable performance throughout.
There may have been some first night stumbles, but this did not deter from the spirited performances from the entire cast, both lead and ensemble. The incredibly large cast over-spilled the Redditch Palace stage as they ably sang through the classic numbers such as 'Windy City' and 'Deadwood Stage'. However, it was in the second half when the ensemble really made their mark. 'The Black Hills of Dakota' was beautifully harmonised, credit also due to Musical Director Tom Porter.
The pacey production was well directed by duo Jean Chalk and Pauline Elliker and difficult scene changes were well-masked.
All in all it was a charming performance of this classic piece of musical theatre, so head on down to Redditch Palace Theatre this week. The show runs until Saturday 21 November.
Love Midlands Theatre
Our View
With a host of modern musicals due to play at the Palace Theatre that year, we made a deliberate decision to choose a more traditional show to present, and few are as popular as the long-time favourite Calamity Jane.
Helming this production were Jean Chalk and Pauline Elliker, who both brought their many talents to bear, and together created a superb production. Joining us as Musical Director for the first time was Tom Porter who, together with Pauline Sherlock as his ever-dependable assistant and Society accompanist, ensured that the music and the singing were first rate, particularly in the beautifully presented Black Hills of Dakota.
Taking the leading role of Calamity, Lisa Lilwall was superb in every aspect; her acting, singing and characterisation were spot-on. She was supported by a cast full of experience, who all played their roles to perfection.
The set was provided by Prosceneium Ltd, and it was originally created for a national tour. As we do with most shows, we struggled to fit it onto the Palace Theatre stage, but thankfully we once again had a great stage team led by Paul Finch to manhandle the set around – even if the weight of the saloon set did 'dig up' part of the Palace Theatre stage!
The company of nearly fifty performers thoroughly enjoyed the week at the theatre. And the show sold reasonably well (we never expected to reach the levels of previous 'blockbusters' such as Jesus Christ Superstar or Beauty and the Beast) with a 75% fill.
Synopsis of the Show
Songs​
The Deadwood Stage
Careless With The Truth
Adelaide
Everyone Complains About The Weather
Men!
Can-Can
Hive Full Of Honey
I Can Do Without You
It's Harry I'm Planning To Marry
Windy City
Keep It Under Your Hat
A Woman's Touch
Higher Than A Hawk
The Black Hills Of Dakota
Love You Dearly
My Secret Love
The Story
The Story is set in Deadwood City, near Chicago, Illinois and is based on the title character – Calamity Jane – who dresses like a man, totes a gun and drives the Deadwood City stagecoach.
The first scene is set in the local saloon bar, The Golden Garter, which is owned by Henry Miller (Millie), assisted by his niece, Susan. Henry is very excited because he has hired Frances Fryer, a beautiful actress/performer from Chicago, to perform in his saloon and she should be arriving on the next stagecoach.
Calamity arrives accompanied by a number of passengers, none of whom appear to be the actress. Calamity, who likes exaggerating her ability to fend-off attacks upon the stagecoach, proceeds to regale everyone with her stories. She is egged on by the crowd and particularly Wild Bill Hickock who enjoys winding her up. Wild Bill is a peace keeper/professional gambler, and Calamity's long time friend.
The stagecoach also marks the arrival of a delivery of cigarettes, and the men excitedly check their packets for the picture cards within. They are all hoping to find a card featuring Adelaide Adams, the famous actress.
A flashy dressed gentleman arrives looking for Mr Miller. This turns out to be a male actor named Francis Fryer, not the 'Frances' that was expected. Millie is devastated because all the townsfolk have been looking forward to seeing a beautiful actress. Fryer asks to be given a chance to show what he can do but Millie is still not impressed and tells him to hide himself so that he doesn't lose face.
As Calamity starts to leave some soldiers from the fort arrive, one of whom is Danny Gilmartin, who Calamity thinks she is in love with. Danny is wounded because he says they were ambushed by some Indians. Calamity starts to fuss over Danny but he pushes her away as the affection is not mutual. Because Danny makes it clear he is not interested Calamity sings a song about horrible men.
After this, Wild Bill takes Calamity over to the bar and Millie announces that there will be a performance of the Golden Garter show. At this point there is a Can-Can dance followed by a performance by the lovely 'Frances' Fryer (this is Francis Fryer in drag). The audience is at first taken aback, but soon start enjoying the performance until Fryer's wig is knocked off and they realise he is a man.
There is uproar and Millie tries to calm things down. Calamity tries to get Millie out of trouble but instead lands him even further in it by promising the crowd that they will get Adelaide Adams – the famous actress that all the men seem to hankering after. In fact, she promises to go to Chicago to collect her in person.
Wild Bill thinks that Calamity has gone too far, and the pair of them exchange a few choice words before Calamity slams out of the bar.
The scene changes to The Bijou Theatre, Chicago where Adelaide Adams is giving her farewell performance before she leaves for a tour of Europe.
Adelaide's dresser, Katie Brown, is desperate to be a star and after Adelaide has left she dances around the dressing room singing Adelaide's song imagining that she is on the stage. At this point Calamity enters and mistakes Katie for Adelaide Adams. She practically begs her to go back to Deadwood with her and Katie, thinking that no-one would know the difference, agrees to go.
Back at The Golden Garter in Deadwood the men dream of meeting Adelaide Adams. Just then, Calamity arrives back accompanied by Katie Brown, who everyone is led to believe is Adelaide. However things don't work out well for Calamity because Danny Gilmartin (with whom Calamity is 'in love' ) is obviously smitten by Katie and so is Wild Bill Hickock.
Calamity is quickly distracted by everyone asking what Chicago is like and she starts to tell them all about it. In the meantime, Francis Fryer recognises Katie and knows that she is not Adelaide Adams. He tries to tell Millie but realising that he cannot disappoint him a second time, decides to keep quiet.
Katie starts her performance but is so nervous she makes a real mess of it. The audience start to get boisterous and eventually Katie has to admit that she isn't Adelaide Adams. There is almost a riot until Calamity steps in and, with the use of her gun, quietens everyone down. She tells everyone to give Katie a chance, and this time Katie does her performance with confidence and she wins the audience round.
Act 2 opens in Calamity's cabin where Katie is doing a wonderful job of tidying up. She has even managed to get Calamity into a dress. They sing together as they transform the cabin into a cosy home.
Whilst they are both out of the cabin Bill arrives and is taken aback by the change in the place. He sees a picture of Katie and because he thinks he is in love with her, he sings a love song to the picture.
At this point Danny Gilmartin arrives. He also thinks he is in love with Katie. Katie arrives back and both men set about trying to impress her. They both try to get rid of the other one and eventually Danny is left alone with Katie when Bill, trying to impress, goes out to get some wood.
Katie tries to keep Danny at a distance because she knows how Calamity feels about him, but he tries to convince her that he has no feeling for Calamity.
Bill arrives back and invites Katie to a ball at Fort Scully but Danny insists that he is taking Katie. Katie suggests that Bill accompanies Calamity and that they go as a foursome. They decide to draw straws as to who should take who and Danny wins to take Katie. Bill is not happy, but Danny is delighted with the outcome.
The scene changes as the company make their way to the ball at Fort Scully and sing about the Black Hills of Dakota.
When they first arrive at the Fort, Calamity is wearing a shabby military coat and a scarf and it isn't until she takes them off that Bill sees how glamorously she is dressed. It appears that all the other men also see a different side to Calamity and start to ask her for a dance.
Katie gently chides Danny, telling him what he was missing in Calamity. But Danny has already started to fall in love with Katie. Calamity sees Danny kissing Katie and she is explodes with jealousy. She grabs her gun and threatens Katie to get out of town. She starts to strip off all her glamorous clothes and Bill tries to stop her. They leave the ball together.
On the trail back to town, Bill tries to calm Calamity down and he tells her that she will get over Danny in the same way that he will have to get over Katie. Calamity sings and whilst Bill is holding her, they both realise they actually are in love with each other.
Danny arrives to break up their moment, to announce that Katie has already made plans to leave town. Calamity realises that she must bring Katie back, so that they can have a double wedding.
The final scene is back in The Golden Garter, where everyone is preparing for three weddings, in fact. Not only are Katie and Danny and Bill and Calamity getting married but also Susan and Francis Fryer. The weddings take place and everyone lives happily ever after…
Credits
Adapted by Ronald Hanmer and Phil Park
From the stage play by Charles K Freeman after the Warner Bros film by James O'Hanlon
Lyrics by Paul Francis Webster
Music by Sammy Fain
An amateur production by arrangement with Josef Weinberger Ltd.