Sister Act
Tue 21 to Sat 25 November 2017
Palace Theatre, Redditch
Director – Tony Jay
Musical Director – Joe George
Choreographer/Assistant Director – Paula Lacey
Accompanist and MD Assistant – Pauline Sherlock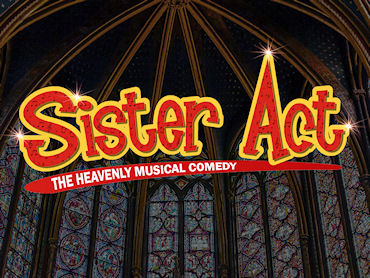 Cast List
| Character | Performed by |
| --- | --- |
| Deloris Van Cartier | Laura Woodall |
| Michelle | Deborah Mitchell |
| Tina | Kelly Mitchell |
| Sheryl | Stephanie Westwood |
| Daphne | Maddy Flawn |
| Babs | Elle Cross |
| Candy | Lisa Smith |
| Curtis Shank | John Reeves |
| TJ | Xavier Reeves |
| Joey | Matt Bridgewater |
| Pablo | Ryan Allen |
| Ernie | Russell Hay |
| Cop | Les Champion |
| Lt. Eddie Souther | Paul Mitchell |
| Mother Superior | Eleanor Peberdy |
| Monsignor O'Hara | Sam Smith |
| Sister Mary Patrick | Emma Sansom |
| Sister Mary Robert | Lucy Traves |
| Sister Mary Lazarus | Liz Bird |
| Sister Mary Martin-of-Tours | Carole Massey |
| Sister Mary Theresa | Jean Chalk |
| Sister Mary Agnes | Tessa Lodge |
| Sister Mary Ignatius | Roz Chalk |
| Sister Mary Collette | Wendy Stroud |
| Sister Mary Gertrude | Hannah Marshall |
| Sister Mary Anna | Vicky Khawaja |
| Sister Mary Eunice | Penny Hoy |
| Sister Mary Bernice | Janet Fryer |
| Waitress | Abigail Entwistle |
| Bar Patron | Hannah Finch |
| Drag Queen | Jacob Finch |
| Cab Driver | John Lovell |
| Newscaster | Joy Sidaway |
| Pope Paul VI | Bob Taylor |
Reviews
Plenty of praise for Redditch Operatic Society's Sister Act
THERE were some heavenly voices filling Redditch's Palace Theatre when the town's Operatic Society brought hit comedy musical Sister Act to the venue.
A packed crowd watched the show which centres around disco diva Deloris Van Cartier who witnesses a murder and is put in a safe house – a convent. She uses her unique disco moves and singing talent to inspire and transform the hapless choir of nuns but her popularity leads to her cover being blown.
There were many highlights in this show. Among them were Deloris taking two innocent nuns into a downtown bar, quirky number 'It's Good to be a Nun', the scene in the confessional and 'Lady in the Long Black Dress' in the second act – the latter two both generated plenty of laugh-out-loud moments.
Liz Bird was brilliant as Sister Mary Lazarus and had the crowd in hysterics everytime she was on the stage. She also received applause mid-song.
Paul Mitchell was also fantastic as Lt Eddie Souther – a role where he could really demonstrate his impressive vocal range.
But the best singers on the night were Laura Woodall in the lead role Deloris Van Cartier and Lucy Traves as Sister Mary Robert. Both never missed a note all night and Woodall added to her performance with perfect comedy timing in the show where funny moments landed every couple of minutes.
The show had a lively start with Take Me to Heaven and the song appeared again as the perfect hook into the interval. Another impressive aspect was the costumes, from the habits to the 'plenty of sparkles' disco outfits.
The only disappointing part about the production was the position of Pope Paul VI on the balcony as many people, particularly in the bottom half of the theatre were unable to see him and his reaction to the choir's performance. But overall this show is well worth seeing.
Tristan Harris, Redditch Standard
Fabulous Baby!
Becoming somewhat a cult classic the stage musical interpretation of the 1992 movie starring Whoopi Goldberg is incredibly popular for amateur performance at the moment and it's not hard to see why, however as I sat down to read the programme at this performance I found myself filled with trepidation at the fact that the lead character of Deloris Van Cartier is played by Laura Woodall.
Nothing strange in that you might think but, Laura isn't African American and surely that part requires an actor of that descent, maybe the accent isn't a problem to achieve but, surely the skin tone is, knowing the show well there are some lines that just wouldn't work so this must be doomed to failure.
Let's clarify one thing first Laura is an exceptional singer, a great actress and quite literally embraces the character of Deloris in every way and of course lines can be changed so that they fit in with whatever artistic rendering of a production a director might wish to use and far greater artistic license has been used in professional theatre. So this does work and it wasn't very long before I allowed my traditionalist view of stage arts to subside in order to be completely entertained by this performance expertly directed/choreographed by Tony Jay and Paula Lacey.
Deloris's gangster boyfriend (his shooting of one of his 'staff' being the reason for her ensconcement in a convent) is played with quiet yet unnerving evil by John Reeves (do get a gun holster though John, trying to pull your weapon from an inside jacket pocket was always going to be difficult and I felt for you every time I knew that was due to happen). Some lovely comic moments from his 'henchmen', Joey, TJ and Pablo (Matthew Bridgewater, Xavier Reeves and Ryan Allen respectively), their performance of the song 'Lady In The Long Black Dress' in particular was nothing short of hilarious.
Whilst there is obviously comedic value in the character of a nun, it takes some concerted acting effort to make that comedy both funny and believable, something achieved with distinction by Emma Sansom as Sister Mary Patrick and with almost nonchalance by Elizabeth Bird as the caustic yet insanely funny Sister Mary Lazarus. Singing voices that deserve a bigger venue and a larger audience in Eleanor Peberdy as the Mother Superior, Lucy Traves as the postulant with the powerful vocal Sister Mary Robert and a totally smooth, natural and soulful rendition of 'I Could Be That Guy' from Paul Mitchell as Officer 'Sweaty' Eddie Souther.
It's fairly difficult to do a poor job with music from Alan Menken and lyrics from Glenn Slater but, Joe George excels in bringing every note to life and with only a few performances left (this one only runs until Saturday 25th November 2017) it would be a crying shame to miss something that Austin Powers would describe as 'Fabulous Baby'.
Tim Hodge, Musical Geek
Energetic Show
Director and producer Tony Jay operates at a high standard and expects the same of his cast, crew and musicians – and we were not disappointed at this characteristically energetic show.
Most people know this story following universal acclaim of the 1992 film starring Whoopi Goldberg as a club singer who has been put under protective custody in a San Francisco convent and has to pretend to be a nun when a mob boss puts her on his hit list. It is a heartening and classic tear-jerker with a happy ending – just perfect for a night at the theatre.
All participants in this production were extremely strong in their own characters, all coming together to form a fast flowing and seamless production which was always going to be a favourite with the audience.
Some may have thought it a risk to cast main character Laura Woodall as Deloris Van Cartier, being so young and relatively inexperienced at such a lead role, but any misgivings will have melted away from curtain up as she held the show together, shining with a strong performance and voice throughout. Confidence is a characteristic required in this part, and Laura showed this in bucketfuls.
Much experienced Eleanor Peberdy – she has been treading the boards for some 30 years – was absolutely stunning as the traumatised Mother Superior. She showed genuine humility throughout in a versatile and extremely believable role in having to try and control the wayward ways of Deloris. This part was perfect for her multitalented skills.
Next to be commended is definitely Elizabeth Bird as the somewhat whacky Sister Mary Lazarus (I think my favourite character of the show). Not only does she possess an accomplished singing voice, but her approach was funny and thoroughly entertaining, adding genuine comedy to what is a very funny show.
All the ruffians in the shape of John Reeves as Curtis, Matthew Bridgewater as Joey, Xavier Reeves as TJ and Ryan Allen as Pablo were an absolute hoot and certainly made for the parts they played, adding that all-important male ingredient to an otherwise female dominated cast (even if they were all the classic incompetent baddies).
Paul Mitchell as love-struck and unfortunate officer of the law Lt Eddie Souther proved his versatility too, while Lucy Traves put on a thoroughly delightful performance as the young and rather unsure Sister Mary Robert.
Sam Smith (Monsignor) was assured and humorous in his role as priest, while Emma Sansom, again in her debut at ROS as Sister Mary Patrick, came into her own as part of the delightful It's Good To Be A Nun.
As usual with ROS music is at the heart of everything they do (sounds obvious really) but those poor unfortunate souls sat under the stage (the orchestra) are always the unsung heroes of these shows, but steered by musical director Joe George were skilful and certainly punch way above their weight for such a small band.
I can't believe another excellent show has come and will have gone by the end of the week, but ROS will have chalked up the latest in a string of triumphs by the end of it all, so well done to all involved. I know how much effort goes into putting on these shows, but it was all very much worthwhile.
Andrew Powell, ex-Editor of The Standard
Hugely Popular Musical
Sister Act follows the story of the film, but the score was written for the musical version. Over the last couple of years, it has become a box officer winner and has delighted audiences up and down the country. This production by Redditch Operatic Society left the audience in no doubt why this show is popular.
Following witnessing a murder, Deloris Van Cartier needs protection and where better to hide her but in a convent. Our night club singer has her work cut out not only fitting in with her fellow nuns but teaching them to sing rather better than they did in the past. Then having saved their convent, the nuns finally get to sing to Pope Paul VI.
The show contained good powerful singing and some polished choreography including the largest assembly of nuns I have seen in a long time! The big numbers such as "Take Me to Heaven" and "Raise Your Voice" were testament to this. The show was big, needing good quality and bright costumes and these requirements were met.
The lead character, Deloris Van Cartier, a not very successful entertainer who has spent years singing in rather downmarket night clubs and who has not had her big break.  She cannot even get a gig at her gangster boyfriend's club! Laura Woodall, who played Deloris, sang her numbers very well and without fault. Audiences often have a preconceived expectation and this character is regularly played by an Afro – Caribbean actress.  This was not the case with this production.  Although not totally convinced the casting worked due to the actresses age and young glamourous looks she nevertheless delivered a confident and powerful performance.
Elizabeth Bird shone as Sister Mary Lazarus. Her facial expressions during the initial rehearsals of the nuns could only be matched by the enthusiasm later in the show.  Well done on a convincing performance.
Lucy Traves as Sister Mary Roberts, the postulant nun (not what Deloris believed she heard!) was most suited for the role she played and delivered a fine performance.  Emma Sansom as Sister Mary Patrick who saw the good in everyone gave a bubbly performance.
Trying to keep control of the nuns was a rather exasperated Mother Superior seeking divine intervention regarding the whole situation. The role was played with strength of character by Eleanor Peberdy in her first show with the society who portrayed a believable performance. Eleanor sang with conviction, "I Haven't Got a Prayer." Sam Smith was an enthusiastic Monsignor O'Hara once out of his suit and wear in a cassock.
The gangsters lead by Curtis played by John Reeves with Matthew Bridgewater as Joey, Xavier Reeves as TJ and Ryan Allen as Pablo all delivered strong performances with a mixture of sinister undertones and light-hearted humour. On the tail of the baddies was Paul Mitchell as Lt Eddie Souther otherwise known as sweatie Eddie. Mitchell gave a convincing performance and sang, "I Could Be That Guy" well surrounded by many down and outs.
The lighting was well done and provided the right atmosphere during many of the musical numbers. The band under the leadership of Joe George accompanied the cast well and enabled the cast to be heard when signing.
Congratulations to Redditch Operatic for bringing this hugely popular musical to life. I look forward to 2018 and your production of 'White Christmas'.
Andy Brown, NODA Representative, Worcestershire East
Some Audience Comments
What an astonishingly good production of Sister Act this afternoon! What quality! Extremely good performances from all on the stage – Congratulations to you all (My five year old grand-daughter was riveted.)
Jill Allbut
Well done to you all it was Amazing!!!
Kim Brookes
Saw the performance yesterday afternoon. Amazing show and loved every minute. Well done to the whole cast.
Alison Beard
It was a great show. Anyone could see that you enjoyed every minute and you were brilliant.
Sharon Humphreys
Well done ROS- Sister Act was such a fantastic show with plenty of talent. It was funny, happy and emotional. Well done guys all round 5* show.
Becky Murrell
What a fantastic show…principles were fab…also chorus alike…I did not want it to end…costumes were amazing…another standing ovation…and so deserved.
Carole Corden
It was fantastic, you were all amazing. You should be really proud, just brilliant! Absolutely love, love, loved it. Amen!
Michele Hayward
Congratulations to everyone involved in Sister Act I enjoyed every minute … brilliant show.
Lily Hollingsworth
Our View
It would be fair to say that rehearsals for this show didn't start off in the best way. Our first appointed Director left us just a week before our big Introduction Night, due to work constraints. And our second Director left for pastures new a few months into rehearsal.
So it was our Chairman, Tony Jay, who next stepped in to take over the production, and who ended up delivering a fabulous show that thoroughly deserved the standing ovation it received each night.
Throughout the whole of this, we were fortunate indeed to have long-standing member Paula Lacey as Choreographer. Paula worked through the problematical period at the start of rehearsals, and carried on coming up with loads of wonderful choreography for, what turned out to be, rather more of a dance-y show than we first imagined. On top of all this, when one of our featured nuns broke her hip (in real life) a couple of weeks before show time, it was Paula who stepped in to play the role herself.
Sister Act was also the first time we worked with professional lighting designer, Matt Bird, who took the lighting of the show to a whole new level for us. Together with superlative costumes from Triple C in Stourbridge, the visual aspects of this production were absolutely stunning.
We achieved a fill of 93% over the week, and the audience loved every minute! They clapped, laughed and even cheered, especially when the Monsignor came on to announce the big finale. And they cheered even louder when the 'Pope' made his appearance in the royal box.
Audience feedback was incredible, and the show proved its popularity by becoming the society's most profitable show that we've presented to date.
Synopsis of the Show
Songs
Take Me to Heaven
Fabulous, Baby!
Here Within These Walls
It's Good to be a Nun
When I Find My Baby
I Could be That Guy
Raise Your Voice
Sunday Morning Fever
Lady in the Long Black Dress
I Haven't Got a Prayer
Bless Our Show
The Life I Never Led
Sister Act
Spread the Love Around
The Story
The story begins on Christmas Eve 1977 where, in a Philadelphia nightclub, we meet the star of our story – Deloris Van Cartier – as she performs a routine with her backing singers. However, the club is empty, and Deloris is just auditioning for Curtis Shank, local gangster and owner of the club. Despite him being married, Curtis and Deloris have been having an affair, and she believes that he is going to hire her as a performer.
Curtis tells her he can't be with her on Christmas Day, and gives her a present – a fur coat. Unfortunately, she discovers that it was originally intended for his wife. Hurt and frustrated, Deloris decides that she is finished with Curtis.
In an alleyway we see Curtis with his three main thugs – Joey, TJ and Pablo – and Ernie, another shady character. Suddenly Curtis pulls a gun on Ernie, and accuses him of being an informant. Unfortunately, just as Curtis shoots Ernie dead, along walks Deloris. She is rightly horrified, and quickly backs away, pretending that she didn't see anything. Curtis, realising that he can't have a witness to the murder, orders his thugs to bring her back, or kill her in trying.
Deloris runs to the police station, where we meet Officer Eddie Souther. She tells him what she has just seen. It turns out that Deloris and the officer know one another from high school, and that Eddie had a crush on her. He decides that Deloris needs to go into witness protection, and tells her he knows the perfect place for her to hide.
We now visit the Queen of Angels Cathedral in South Philadelphia, where the nuns are singing tunelessly on their way to mass. The Mother Superior and Monsignor O'Hara discuss an offer that has been made to purchase the church. He also tells her that the Philadelphia Police Department have requested that they hide a wayward woman in the convent for a month.
Shortly after her arrival, Deloris joins the nuns for dinner, and we meet, in particular, shy young novice Sister Mary Robert, bubbly and enthusiastic Sister Mary Patrick and grumpy older Sister Mary Lazarus. Mother Superior introduces them to Deloris under her assumed new name of Sister Mary Clarence.
Back at the Police Station, Curtis and his three goons have been bought in for questioning. Unfortunately, Deloris' fur coat is left in view and Curtis spots it, thus knowing that she is a police witness.
At the convent, Deloris visits the Dive Bar across the street, still dressed in her habit. Joey, TJ and Pablo are in there, but thankfully they don't recognise her. Shortly, Sisters Mary Robert and Mary Patrick follow her into the bar, but Deloris quickly ushers the two nuns out of there, and away from potential harm. Mother Superior berates Deloris for leading the other nuns astray, and decides that she should be confined to just one task… singing with the choir.
Next morning, Deloris attends choir practice and soon realises how awful they are. She offers to try and teach them, taking over from choir mistress Mary Lazarus. Deloris starts to teach the nuns how to sing in key and on time, and she particularly starts to bring timid Mary Robert out of her shell.
That Sunday, in the church, the Monsignor introduces the new choir, under the direction of Sister Mary Clarence (Deloris), and they amaze everyone by singing in beautiful harmony. Suddenly, Deloris leads them into a big disco number which leaves the Mother Superior horrified.
At the start of Act 2, we see Mother Superior in the confessional. She wants to be rid of Deloris, but the Monsignor arrives to tell her that the choir's music is bringing people in from the streets, and donations have started to come in. At each subsequent Sunday service the choir continue to perform to the growing congregation and the money keeps coming in. Then, one day, the Monsignor arrives with some incredible news: the choir has been asked to perform a special concert for his holiness, the Pope.
Curtis and his goons catch a TV news bulletin about the success of this new choir. They recognise Deloris on the TV, and Curtis instructs the lads to go and get her.
Meanwhile, the Mother Superior is continuing to asking God why he has given her the challenge that is Deloris when, suddenly, the phone rings, and Officer Eddie tells her that he is coming to pick up Deloris immediately, because he has learnt that her cover has been blown.
In her bedroom, all the nuns visit Deloris, and they sing their excitement about performing for the Pope. Mother Superior enters and tells Deloris that she has been rumbled. The nuns are puzzled to hear that the person they know as Sister Mary Clarence is really a singer who has been hiding under witness protection after seeing a murder take place. They are all sad as they watch her leave the room.
As Deloris gathers her things, Mary Roberts begs to go with her. Deloris tells her she can be anything she wants to be in life, and they say their goodbyes as Eddie arrives to take her away to his apartment for the night, where they have a heart to heart.
At the convent, the nuns are downhearted to have lost their mentor, but are thrilled when Deloris returns to help with their final rehearsals. The Mother Superior, however, is adamant that she leaves for the safety of the nuns, prompting an outburst from Sister Mary Robert who says that she is going to help Deloris. Suddenly, they hear a window break, and they all disperse, running around the church attempting to hide Deloris from Curtis and his thugs who have sneaked in disguised as nuns. There follows a farcical chase scene, in and out of various doors, until Curtis decides to bring things to a halt by holding Mary Robert at gunpoint. On seeing this, Deloris quickly gives herself up.
Curtis puts his gun to Deloris' head, but Mother Superior and the other nuns push in between them, and tell him that he will have to go through them first. Curtis is just about to start firing at the nuns when Officer Eddie enters and shoots him. Curtis is hit in the shoulder, and is dragged away by the cops. Before Deloris can say anything more, Eddie kisses her.
The nuns run off to get ready for their performance for the Pope, leaving Mother Superior and Deloris together to come to a truce and accept that perhaps they are not so different after all.
The show ends with all the nuns, and eventually the whole company performing a big, glitzy performance for the Pope.
Credits
Music by Alan Menken. Lyrics by Glenn Slater.
Book by Cheri Steinkellner and Bill Steinkellner. Additional Book Material by Douglas Carter Beane.
Orchestrations by Doug Besterman. Vocal and Incidental Music Arrangements by Michael Kosarin.
Based on the Touchstone Pictures Motion Picture 'Sister Act' written by Joseph Howard.
Produced on Broadway by Whoopi Goldberg and Stage Entertainment in association with The Shubert Organization and Disney Theatrical Productions.
Original production developed in association with Peter Schneider and Michael Reno and produced by Stage Entertainment.
World Premiere produced by Pasadena Playhouse, CA, and Alliance Theatre, GA. Sheldon Epps, Artistic Director. Susan V Booth, Artistic Director. Lyla White, Executive Director. Tom Pechar, Managing Director. Tom Ware, Producing Director.
An amateur production presented by arrangement with Music Theatre International (Europe). All authorised performance materials are also supplied by MTI Europe. www.mtishows.co.uk